Nooks, airstreams, cabins and more to bookmark for your next trip West.
by Kayla Guilliams
Western North Carolina has enough draw on its own, with ample views of the Blue Ridge Mountains, hikes that make you think you're in a fairytale, white snow, golden leaves, or crisp swimming holes depending on when you visit. Now add these dreamy vacation rentals with things like wood-burning stoves, stone walls, sunset views, and more to make your trips to Western North Carolina even better.
For the Introvert: Gashes Fluss Haus
This rustic, 100-year-old cottage used to serve as a two-story farmhand house and has been transformed into a charming, comfortable Airbnb. Located along Charlotte Highway, it's a short drive to the Blue Ridge Parkway for hiking, Highland Brewing for dinner and drinks, and the Fro Yo Lab for dessert. With its wood-burning stove and white stone walls though, it also looks like an ideal spot to recharge for a few days.
For a modern-day Gilligan's Island: Treehouse of Serenity
Built on an 8-acre parcel just 10 minutes from downtown, this treehouse is perfect for secluded getaway while still being close to the heart of town. Relax on the patio to watch the sunset over the mountains, cuddle up with a book or whip up a meal in the full kitchen. This fairytale sanctuary is on the northern side of town, where you can dine at award-winning Stoney Knob Cafe, grab a cup of coffee from Asheville Coffee Roasters, or enjoy the beautiful flora at garden shop Thyme in the Garden.
For a Private Stay for Two: A Light-filled Cottage
This eclectic cottage caught our eye for its deceivingly high ceiling, located in Riceville Valley, it's set on a beautiful landscape in the Swannanoa area. With easy access to walking trails and ample space for biking adventures, it's the perfect space for a couple looking for an outdoorsy getaway. While it's just minutes from the Blue Ridge Parkway and 15 minutes from Downtown Asheville, the usual WNC destinations for adventure, it's also close to the Haw Creek area in East Asheville, where you can find restaurants like Rendezvous and Creekside Taphouse, and cafes like PennyCup Coffee.
For Lord of the Rings Fans: Hobbit Knoll
This Hobbit-inspired stay is the perfect fantasy destination for a family of four. Featured on outlets like CNN and ABC News, 90% of this home is built into the earth and its decor is entirely inspired by the imagination of J.R.R. Tolkein, with stone walls, rounded doors and an underground feel. While the home is an adventure on its own, you can also use your stay to explore the North Asheville area, home to Beaver Lake, Early Girl Eatery, and cafe and wine bar Deluxe.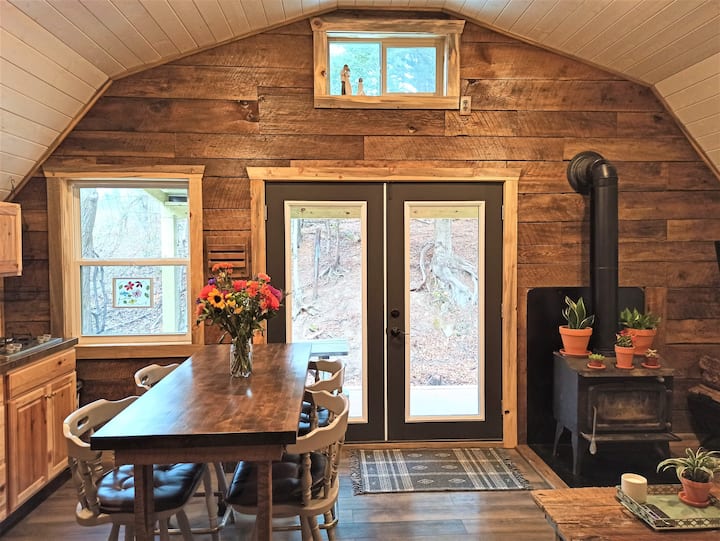 For a family of Naturalists: Our Happy Little Hut
This tiny home is the perfect rustic stay for a family of four. The 400 sq ft space is decorated with colorful wood details, has a bedroom, bathroom, upstairs kids loft, and a porch that overlooks a natural spring and small waterfall (with a canoe!). The hut is located in Stony Fork near Boone, where you can explore the campus of Appalachian State University, eat at Dan'l Boone Inn, or explore the many gift and specialty shops in Blowing Rock.
For Vintage Lovers: The RhodoDen Airstream
Nestled in the stunning rhododendron of the Blue Ridge Mountains, this cozy airstream is the ultimate clamping spot in the beauty of the Swannanoa area. Inside you'll find the owner's hand-picked record collection alongside a lending library, and outside you'll find a porch that faces Watch Knob, perfect for watching the sunset. Another spot you might not want to leave. But if so, nearby, you can find Pisgah Brewery, perfect for music and drinks, Warren Wilson College, the Pisgah National Forest and Charles D. Owen Park.
For the Old Soul: The Starling
This tiny, rustic, a-frame cabin is situated atop a ridge for beautiful views of the Blue Ridge Mountains year round. You'll be surrounded by beech, birch, and maple trees, and can enjoy the light that floods into the wooded interior during the day. Head to Rhododendron Ridge Trail for a scenic hike or downtown Asheville, where you can enjoy mainstays like the Asheville Pinball Museum, Izzy's Coffee Den and Cúrate.
For Luxury Living in the Woods: A Romantic Treehouse
With a hot tub and 14 acres of land to explore, this secluded treehouse is perfect for those looking for a luxurious, forest getaway. It caught our eye for its beautiful white and grey interior that is flooded by natural light and surrounded by forest views. It's also just 10 minutes from Black Mountain, a small mountain town where you can find hidden gems like Black Mountain Kitchen & Ale House, Blue Ridge Biscuit Company and Dynamite Roasting Co.
For Lake Lovers: Lake James Tiny Home
This off-grid tiny home is with country cottage vibes is perfect for those looking for a distraction-free stay. It also has free boat parking and is minutes from Lake James, where you can take out your boat, fish and swim. It's also not far from South Creek Winery, home to stunning views, rolling vineyards and world-class wines.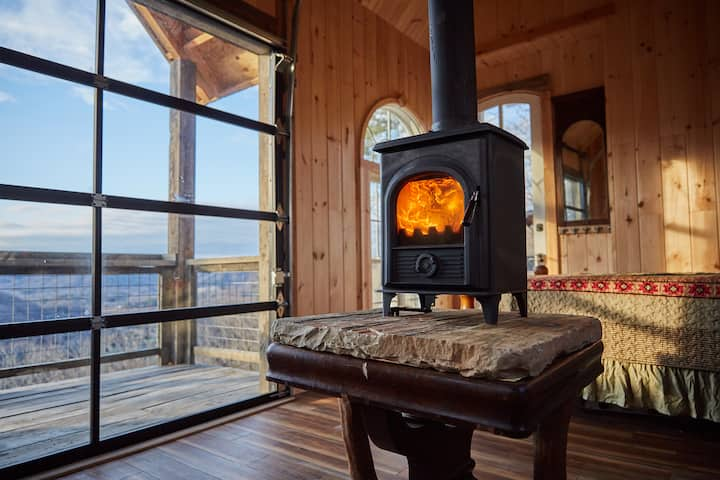 For the Risk Taker: Raven Rock Cabin
This off-grid tiny cabin offers stunning panoramic views of the Great Smoky Mountains, Raven Rock Treehouse, and Hooper's Creek Valley. You'll be surrounded by the wildlife of WNC's mountains, and have access to 10 acres of high mountain pasture to hike and explore. Just 10 minutes from Hendersonville, you can also explore Dry Falls Brewing Co, HenDough Chicken & Donut, Black Bear Coffee Co, or the Beatles-themed Mean Mr. Mustard Cafe.
For the Artist: The Nook
Made by local artisans from local materials, this stunning nook is screams artists retreat. Glean some inspiration from the airy living space, expansive windows and entertainment loft, or go out and explore the nearby Blue Ridge Parkway. You'll also be just minutes from Swannanoa, where you can enjoy Okie Dokies Smokehouse, Jimmy's on the River or La Bamba Sazón Latino.
For a Solo Stay in the Woods: The Roost
This unique stay is an arched tiny home with year-round views of the mountains that caught our eye for its wooded, twinkling interior. Stay in and cozy up by the woodstove, relax in the outdoor hammock or hike up the nearby ridge. You also won't be far from Downtown Asheville, and attractions like the WNC Nature Center and the Folk Art Center.
For a taste of Farm Life: A Secluded Tiny House
This beautiful, mid-century designed tiny home is located on a scenic organic farm offering gorgeous views. Its size and location make it the perfect spot for a couple who's looking for a relaxing mountain getaway, but doesn't want to be too far away from the heart of Asheville. Take advantage of the property's Weaverville location and explore some of the hidden small town gems nearby, like Well Bred Bakery, All Good Coffee, and Blue Mountain Pizza.
For the Book Lover: Paradise Pagoda in the Pines
This open-air, off-grid pagoda caught our eye for its stunning wooded architecture and spanning, forest-filled views. Located on rural land that's also home to a homestead and a sustainable living school, it's the perfect location for those looking for outdoor adventure. It's also less than 15 minutes away from the Big Ivy area in Pisgah National Forest, which is home to picturesque swimming holes, waterfalls, hiking trails, and wildflowers.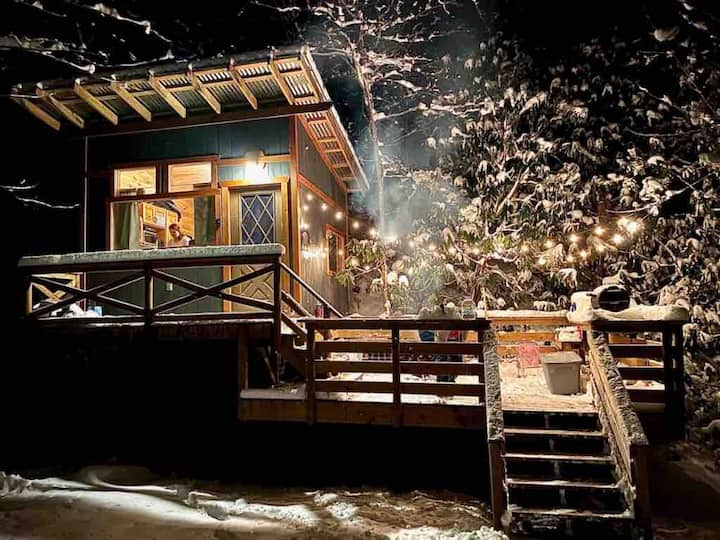 For Camp Nowhere Fans: Camp Bigfun
Camp BigFun, set on a 13-acre private lake deep in the Blue Ridge Mts at 3400 feet up is enough to make your dreams of hosting a camp for grown-ups true. The grounds boost 7 petite cabins, 2 campers, and several unique tent camping areas to rent from. All with varying sorts of aquatic sports like tubing, canoeing swimming plus fire pits, and more. What's more is this one is just 25 minutes from Boone where you can eat at Daily Bread, score through tons of antique and vintage shops, stop for a morning brew at Higher Grounds, and more.