From cheap tacos to fine French and Italian cuisine to authentic Ethiopian, check out this list of strip mall joints that dish up food in both unexpected and convenient locations.
by Riley Bensen and Addie Ladner
Strip malls can get a bad rap — but those uniform exteriors hold some of Raleigh's best-kept culinary secrets. Tucked between retail storefronts and grocery outposts, strip mall restaurants are often foodie favorites and neighborhood secrets (with convenient parking, to boot). From outposts along northern Glenwood Avenue to the far reaches of New Bern and Hillsborough, and beyond, strip mall restaurants offer find both formal and informal atmospheres, and a range of cuisines from Italian to Chinese to Indian, and more. Check out these 30-plus under-the-radar Raleigh and Cary restaurants worth putting on your list.
Amedeo's Italian Restaurant
Former NC State football player Amedeo DeAngelis opened Amedeo's over 50 years ago and has been serving pizza, calzones, and subs to hungry college students and Raleigh families in a strip mall on Western Boulevard ever since. The bond to the university is strong: they've kept track of the NC State coaches and players that have visited the restaurant over the years and the walls are decorated with sports memorabilia.
3905 Western Boulevard, Raleigh | Amedeo's Italian Restaurant
Bella Monica
Bella Monica has been serving all things Italian in a shopping center off Edwards Mill Road since 2000. The cozy restaurant offers flatbreads, neapolitan style pizza, calzones, and strombolis as well as more formal entrée choices including baked ziti and spaghetti alla scampi and chicken parmigiana, and rigatoni veal bolognese. The strip mall location is unique with its substantial outdoor seating, perfect for a summer evening. Don't skip out on dessert — their tiramisu is not to be missed.
3121 Edwards Mill Road, Raleigh | Bella Monica
Bloomsbury Bistro
The Bloomsbury Bistro is hard to miss as you turn onto Fairview Road from Five Points with its bright yellow exterior standing out against the other storefronts. The Bistro offers fine dining inspired by French cuisine, with ingredients sourced from North Carolina, serving dishes such as truffle fries, roast chicken fricassee, and profiterole alongside mashed potatoes, NC trout, and burgers.
509-101 W Whitaker Mill Road, Raleigh | Bloomsbury Bistro
Biryani Maxx
Biryani Maxx is an informal restaurant in Cary serving authentic Indian cuisine. Their plain, butter, onion, garlic, or chilli naan is a tasty starter and they offer a wide selection of vegetarian entrées as well as many goat, chicken, and lamb options. Customer favorites to try out include the lamb sheek or chicken sheek kebabs, chicken vindaloo, or any variation of biryani.
590 E Chatham Street Suite 102, Cary | Biryani Maxx
Casa Carbone
Casa Carbone is a family-owned restaurant located in a strip mall headed north up Glenwood Avenue. This Italian-American spot is currently open for indoor dining in addition to offering their own delivery service. Around since 1984, try customer favorites like chicken parmesan, lasagna, and spaghetti with meatballs as well as a fantastic cheesecake for dessert.
6019 Glenwood Avenue A, Raleigh | Casa Carbone
Chuan Cafe
Off New Bern Avenue, Chuan Cafe dishes up Chinese food in a bright and airy atmosphere and is now open for in-person dining. Try out their popular Szechuan chili wontons, dan dan noodles, sesame chicken, or super-spicy mapo tofu. With many delivery options (Grubhub, Postmates, and Ubereats to name a few), this spot is both tasty and convenient for delivery, too.
2004 New Bern Avenue, Raleigh | Chuan Cafe
Chubby's Tacos
Following the restaurant's expansion, Chubby's Tacos is emerging from a neighborhood go-to to an all around Raleigh favorite. As their name suggests, they have many taco options plus burrito, quesadilla, enchilada, and fajita options. Try one of their desserts–fried plantains, caramel custard, or the unique pina colada fried cheesecake.
2444 Wycliff Road, Raleigh | Chubby's Tacos
Cloos' Coney Island
Cloos' Coney Island is an NC State student favorite in Mission Valley serving all things hotdogs, hamburgers, and fries. The restaurant has a distinctive retro feel with its black and white checkered floors to the old-school pinball machine in the back. Cloos' is great for a casual lunch or dinner with friends to watch an NC State or Carolina Hurricanes game.
2233-102 Avent Ferry Road, Raleigh | Cloos' Coney Island
Doherty's
On the side of a strip mall near RTP, step inside Doherty's for a true slice of Ireland, with dark leather seating, Guiness flowing, house-made potato chips, Reubin-inspired Irish egg rolls, five-star fish and chips, and more. Known as the "Cheers of Cary and Apex," Doherty's has plenty of seating inside and out and serves takeout.
1979 High House Road, Cary | Doherty's
El Dorado
There are eight El Dorado restaurants across the triangle, each one dedicated to one of owner Isabel Ayal's eight children — El Dorado prides itself on being a family business and the way in which the small business has been able to grow over the years. This Brentwood Road location tucked into Stony Brook Shopping Center is a casual lunch or dinner spot. The Mexican menu is large, offering quesadillas, nachos, tacos, burritos, fajitas, as well as many seafood dishes.
2811 Brentwood Road, Raleigh | El Dorado
Frank's Pizza
Frank's Pizza, not currently open for in-person dining, is located in a strip mall off New Bern Avenue and serves high-quality New York style pizza. They have been around for over 30 years offering, in addition to pizza, a solid Italian menu of calzones and pasta dishes such as eggplant parmigiana and ravioli. Grab takeout or you can also order through Grubhub or Ubereats.
2030 New Bern Avenue, Raleigh, NC 27610 | Frank's Pizza
Glenwood Grill
Glenwood Grill is upscale dining tucked right into Glenwood Village. It offers classic Southern comfort food and great seafood dishes; a few menu highlights include fried green tomatoes, short ribs, and shrimp and grits. They are currently operating at half capacity so make a reservation here for indoor or outdoor seating.
2603-151 Glenwood Avenue, Raleigh | Glenwood Grill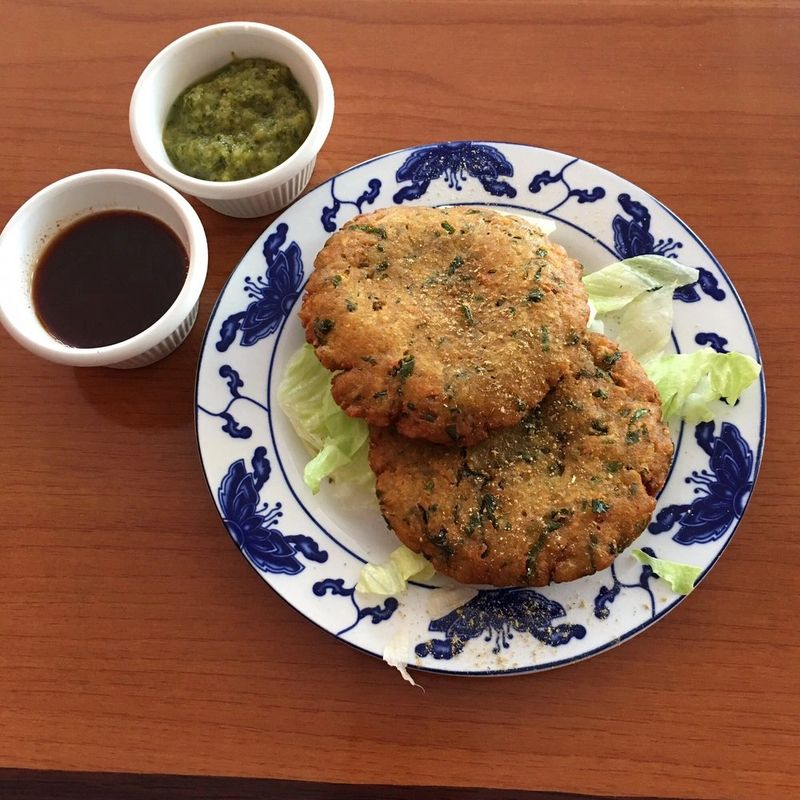 Himalayan Range
Himalayan Range is a small, no-frills restaurant in Cary — and should be your new go-to for all things Nepalese food. Stop by for chow mein, various noodle soups, and chicken, goat, lamb, and vegetable dishes including goat curry and chicken vindaloo.
910 NE Maynard Road, Cary | Himalayan Range
Jamaican Grille
A menu entirely dedicated to Jamaican food is exciting with not many Jamaican restaurants around in the Triangle–order the popular curry chicken or goat, red beans and rice, oxtail, or jerk chicken. This tiny strip mall restaurant in northeast Raleigh, with walls painted the bright yellow and green of the Jamaican flag, is not currently open for in-person dining, so head to the back of the restaurant to place a to-go order or pick up take out or find them on Grubhub.
5500 Atlantic Springs Road, Raleigh | Jamaican Grille
Koi Grill and Sushi
Jason Chow, the chef of Koi Grill, grew up surrounded by various cuisines from all over Asia such as China, the Philippines, Thailand, and Indonesia. He brings a true passion for the art of and excitement of cooking to Koi where a fantastic, extensive menu of Asian food is offered to customers. Stop in or utilize Koi's delivery service to order anything from dumplings and spring rolls to ramen and pho to hibachi and noodle dishes. Chow recommends the house specialty koi roll when ordering sushi which is BOGO, so do not miss out!
126 E Millbrook Road, Raleigh | Koi Grill and Sushi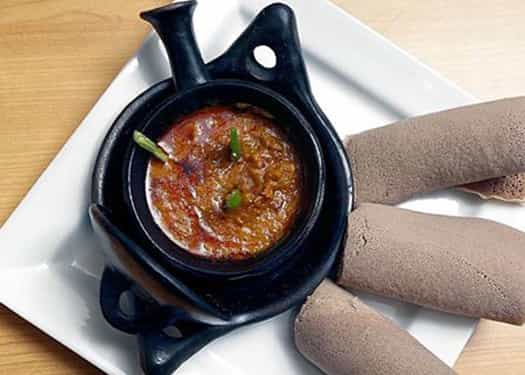 Nafkot Ethiopian Restaurant
Nafkot Ethiopian Restaurant serves authentic Indian food in a strip mall on Avent Ferry Road. Try kaye wot (beef cooked in red pepper sauce),doro tibs (sauteed rosemary chicken with onions and green peppers), or one of their vegetarian dishes such as shiro with gommen (seasoned chickpeas served with collard greens). The restaurant allows you to connect with more Ethiopian culture than solely food: a mural on the wall depicts the colors of the United States flag flowing into those of the Ehiopian flag, then expanding into a scene of the Ethiopian savanna, and shelving throughout the restaurant displays a host of Ethipoian objects.
2109 Avent Ferry Road #146, Raleigh | Nafkot Ethiopian Restaurant
Pho Far East
Pho Far East is all things vietnamese food and perfect for pho lovers. They have classic chicken, beef, and seafood pho as well as many other noodle and rice dishes. Customers love their crispy spring rolls. For a treat, try out strawberry, mango, or avocado bubble tea, a smoothie type drink with tapioca balls.
4011 Capital Boulevard, Raleigh | Pho Far East
Relish Craft Kitchen and Bourbon Bar
Relish Craft Kitchen has all things southern comfort food: hearty sandwiches, burgers, chicken sandwiches, and most exciting-different flavored mac and cheese skillets such as alfredo mac or cajun mac. They also offer a great brunch menu Saturdays and Sundays from 9 to twelve with everything from avocado toast to donuts to breakfast bowls. For all gluten free folks–they even have a whole menu curated just for you!
5625 Creedmoor Road, Raleigh | Relish
Ruckus Pizza
There are many pizza places in Raleigh now, but Ruckus has been around for decades serving piping hot, perfectly thin, and chewy cheesy pizzas since the beginning at their flagship location in the Mission Valley shopping center. Take a break from the classic tomato-sauce base pizzas and try the Ruckus White. You won't be sorry with its perfectly balanced hints of garlic and basil and creamy ricotta. And their garlic knots are never a bad idea.
2233 Avent Ferry Road, Raleigh | Ruckus
Saint Jacques
This sophisticated french bistro unexpectedly located in a strip mall of Falls of the Neuse Road strives to source local and use North Carolina products whenever possible to use throughout its authentic French menu. Start with onion soup and a cheese plate for the table. If you are feeling seafood go for the scallop scampi, octopus, or the NC catch of the day–if not, their menu also includes a few duck dishes and filet mignon. You'll want to save room for creme brulee or tarte aux pommes (apple caramel tart with vanilla ice cream).
6112 Falls of Neuse Road, Raleigh | Saint Jacques
The Sea Depot
Located within a mecca of hidden strip mall finds, Chatham Square down Hillsborough Street, towards Cary, Sea Depot is at once a fish market and a scaled-back takeout joint for fried shrimp, flounder, or anything they're offering which is a lot. All fried in the classic, Southern Atkinson's fish meal.
750 E Chatham Street, Cary | Sea Depot
Secrets Cajun Kitchen
Head to Secrets Cajun Kitchen for a fried shrimp basket, fried fish po-boy, or a variety of fantastic cajun-style seafood: crawfish, king and snow crab, or shrimp. Start with chicken and sausage or turkey gumbo and oysters for the table and with your meal, the expertly seasoned corn, potatoes, and sausage sides are a must. The "Love Boat," a large platter filled with two pounds of crawfish, one pound of snow crab, sausage, a few ears or corn, and potatoes, is great to share family style with your group.
4511 New Bern Avenue #100, Raleigh | Secrets Cajun Kitchen
Shaba Shabu
"Shaba" means hibiscus flower in Thai, while "shabu" is a style of Japanese hot pot cooking — so Shaba Shabu offers favorites from both cultures. Tucked into the Holly Park shopping center, the inside of the restaurant is actually split into Thai and Japanese sides, with a bar in between. A Raleigh fixture for nearly two decades that's one many local awards, the owner and staff greet longtime customers warmly — and it's also a favorite for takeaway and delivery.
3080 Wake Forest Rd, Raleigh | Shaba Shabu
Soo Cafe
Soo Cafe is a casual Korean restaurant off Capital Boulevard. The space has a calm atmosphere with plants dispersed around the restaurant and clouds painted on the walls. Start with edamame, pork dumplings, and miso soup for appetizers and order any one of their Korean staples for an entrée such as beef or chicken bulgogi, shrimp tempura, or spicy Korean fried chicken.
2815 Brentwood Road, Raleigh | Soo Cafe
Sopranos Grill
Family-owned Sopranos Grill, an Italian restaurant in a strip mall off New Bern Avenue, has a bright and welcoming atmosphere. The restaurant has an extensive menu serving classic Italian entrées like chicken or eggplant parmigiana and ravioli as well as more casual options such as mozzarella sticks and cheesesteak hoagies — they truly have something for everyone.
1030 N Rogers Lane Suite 101, Raleigh | Sopranos Grill
Sushi-Thai
Tucked in Lake Boone shopping center, Sushi Thai is a hidden gem serving Japanese and Thai cuisine. Aside from their large sushi menu and different pad thai options, they also offer poke bowls, hibachi, tempura, crispy orange chicken, and more. The comfortable atmosphere and unfailingly kind staff makes Sushi-Thai a great choice for both the quick, casual dinner or a planned night out with friends or family.
2434 Wycliff Road, Raleigh, Raleigh | Sushi Thai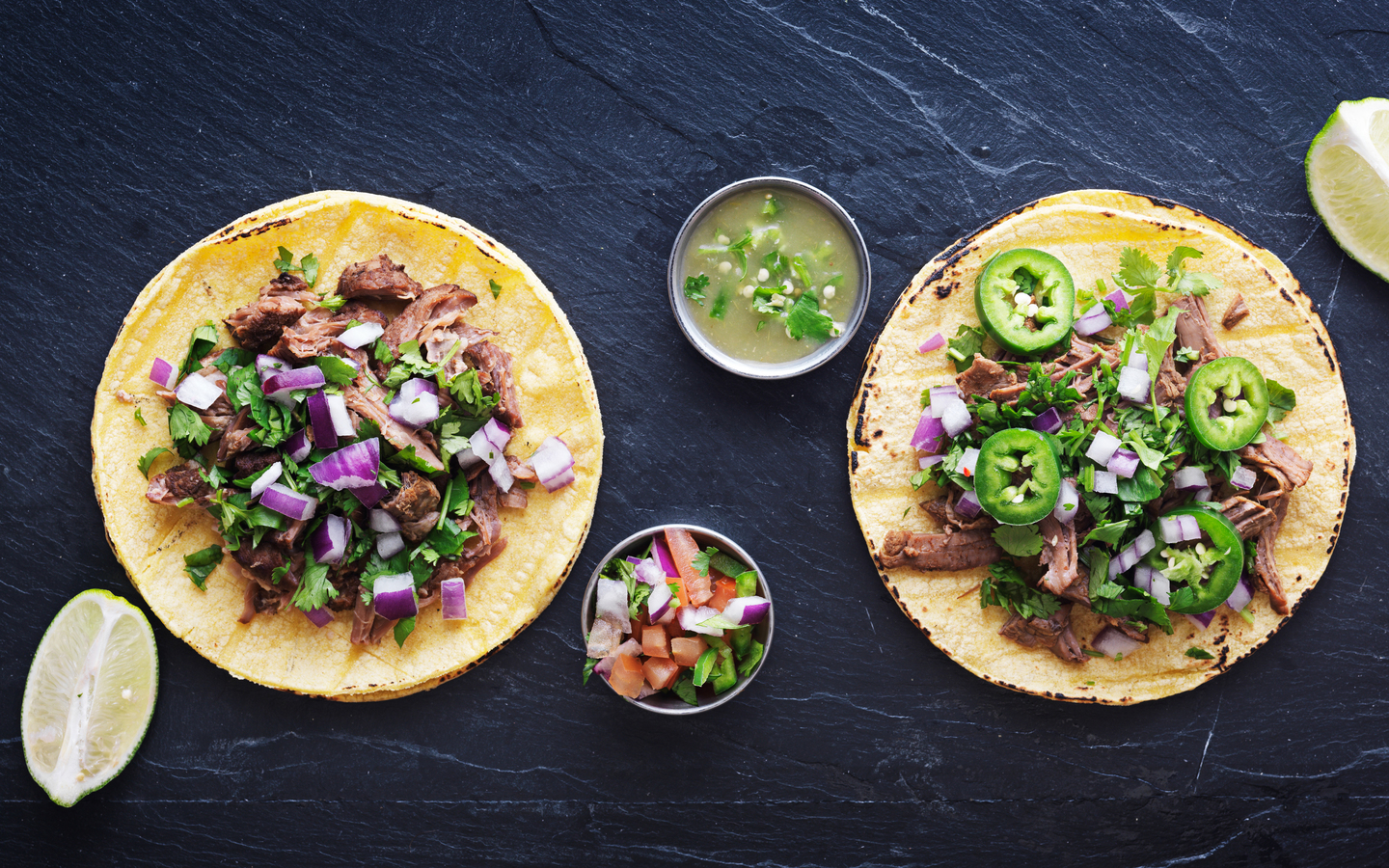 Tacos Estilo Hidalgo
Another off-the-radar place in Chatham Square, this tiny Mexican-Salvadoran place boosts super cheap, authentic, and beautifully plated tacos, beans, rice, and more which many folks wash down with Mexican Coke in a glass bottle. Don't miss their best-seller, a big vat of hearty tomato and beef soup, with big chunks of buttery vegetables to hold all the flavor.
748 E Chatham St. Tacos Estilo | Hidalgo
Taipei 101
Taipei 101 serves authentic Taiwanese and Chinese cuisine in Cary in a bright and open space. Their most popular dishes include peking duck, sesame chicken, and kung pao chicken. Don't miss out on tasty starters such as dan dan noodles, Szechuan cold noodles, and minced beef soup!
121 E Chatham Street, Cary | Taipei 101
Taste
Taste, a dimly-lit, intimate restaurant by night and a bright bustling brunch destination on weekend mornings, is located in the small High Park shopping center. They serve small plates, so when you're torn on what to order, you are not forced to choose. Steak or ahi tuna tacos, beltline sliders, and bruschetta with feta cheese are fan-favorites but don't forget to check out the newer Thai menu — their pad thai, drunken noodles, and spicy fried rice are not to be missed.
1912 Bernard Street, Raleigh | Taste
Vic's Italian Kitchen and Pizzeria
Vic's Italian Kitchen and Pizzeria's new location on Lake Boone Trail extends the business originating in City Market downtown to the world of strip mall restaurants. Their menu includes classic Italian entrées, pastas, in addition to New York-style pizzas such as the New Yorker (sausage, onions, mushrooms, green peppers, and pepperoni), the Chicagoan (tomatoes, sausage, mushrooms, and onions) and the Meat Eater. Its mobile outpost, Vic's Pizza Bus, is also permanently parked at Bowstring Pizza and Brewyard at 1930 Wake Forest Road.
4035 Lake Boone Trail Suite 109, Raleigh | Vic's Italian Kitchen
Zest Cafe and Home Art
Zest Cafe and Home Art is a combined restaurant and home store in Six Forks Station Shopping Center. The shop includes gifts and other home items and decor while the cafe serves classic southern dishes. Zest's brunch has a varied menu with highlights including shrimp and grits, huevos rancheros, and creme brulee french toast. The lunch and dinner menu is home-style meals with fresh ingredients, largely locally sourced.
8831 Six Forks Road, Raleigh | Zest Cafe and Home Art