Save these 10 close-to-home stays that will help you find pastoral peace right here in the Piedmont.
by Emily Gajda
Sometimes we all need a weekend in the woods to disconnect from the busyness of the Triangle or a comfortable space to get our creative juices flowing. For just that reason, we have rounded up 10 Airbnbs that will give you a change of scenery indoors and out. Go ahead and save them for your next trip with old friends, an upcoming couples' getaway, or a well-deserved solo adventure.
---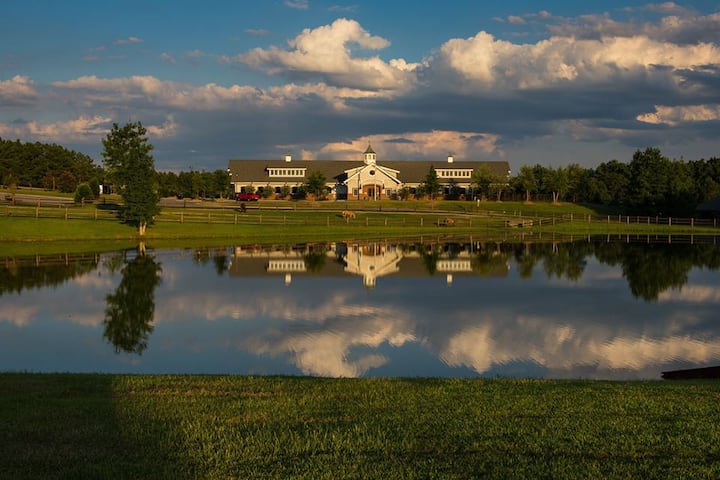 For Wishful Countryside Dwellers: A Stay Above the Stables
This upstairs barn apartment in Clayton is the place to live out your equestrian fantasies with views of open fields outside the windows and even a balcony looking into the attached horse barn. With wooden floors and ceilings and antique touches throughout the space, be transport to a provincial daydream. The property offers more than 10 miles of walking trails that meander to the Neuse River and back. In downtown Clayton, experience the heart of a charming Southern town with a hearty "Americana"-style dinner at Crawford Cookshop, or stop for a craft beer at Deep River Brewing Company before heading back to enjoy a sunset over the pasturelands.
---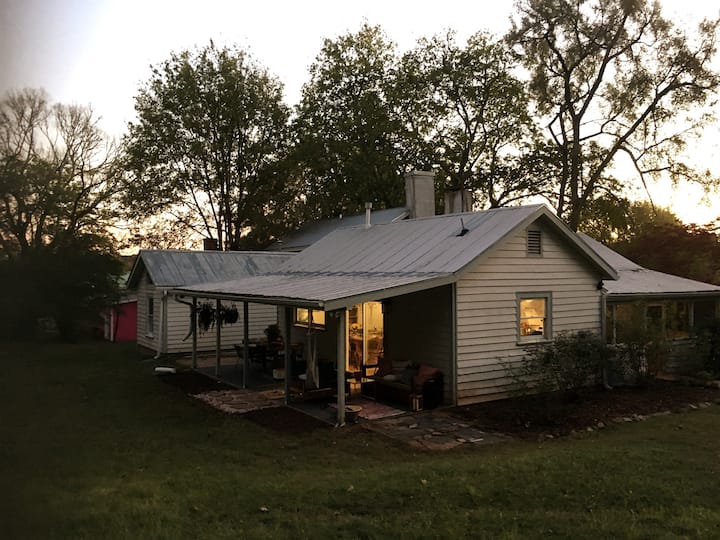 For a Family of Fishermen: A House by the River
This whimsical family home is an essential place for a family getaway situated right on the Haw River with ample opportunities for swimming or fishing all spring and summer long. Plus a double-sided fireplace in the living room and another one in the bedroom means cool spring evenings will still be warm and cozy. There's plenty of outdoor space to you enjoying morning coffee, afternoon tea, and evening cocktails while the kids catch lightning bugs or play in the river. If you are looking for activities nearby, try to catch live music at the Bynum Front Porch and visit Fearrington Village for a day of tasty foods and quaint shopping in a beautiful and historic countryside community. 
---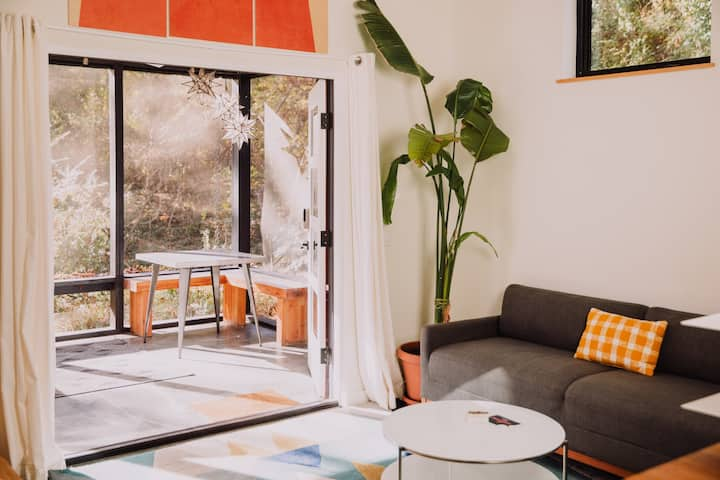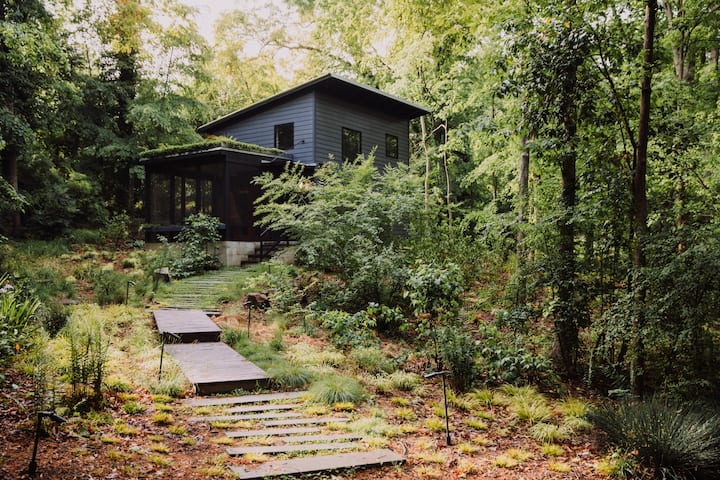 For Tired Urbanites: Paradise Within City Limits
Immerse yourself in the forest at this tiny house without sacrificing the liveliness of the city that you love. The clean and bright decor of this lovely (and little) home can offer a perfect landing spot after a long day cheering on the Duke University Blue Devils or exploring the American Tobacco Historic District where you can try out Press Coffee & Crepes for breakfast or afternoon cocktails, and sit down for dinner at NanaSteak. However, after experiencing the peace possible in this updated and open space, you might still find yourself choosing to laze about for a day with a book or a quiet night of conversation over wine on the screened in porch.
---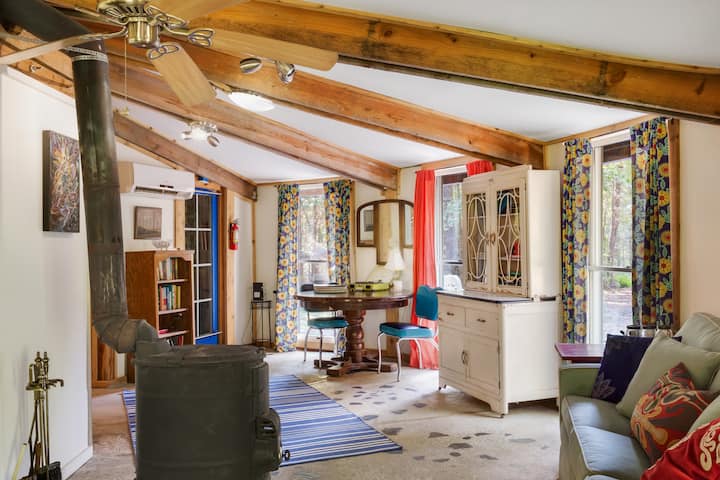 For a Bucolic Weekend Away: A Quaint Handmade Home
This eccentric cottage in the village of Moncure caught our eye as the perfect place for two (or just one) to disconnect from distractions and reconnect with the whimsy all around. With exposed wooden beams, lively pops of color both inside and out, plus a wood burning stove that really anchors the space, it's the perfect place for a couple or a solo-traveling introvert to exist in the simple life for a few days and experience the fun and funky energy that the Bower offers. On the property is a working metal art studio and a farm-to-fork chef whose services you can request, and the town of Pittsboro is minutes away for more entertainment and food options like the classic S&T's Soda Shoppe.
---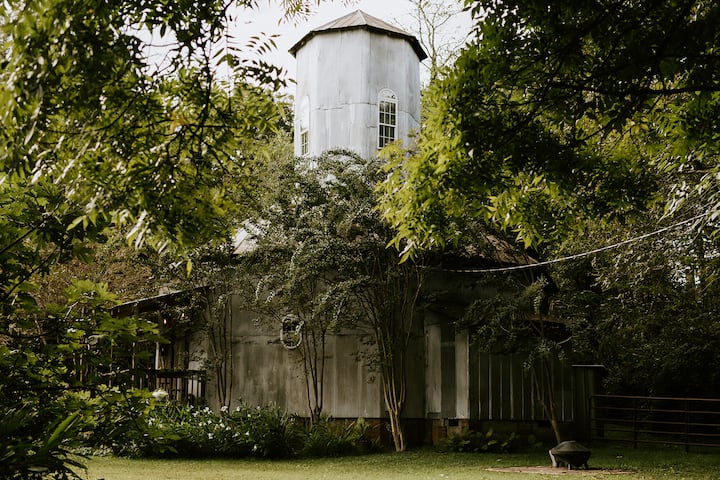 For Vintage Lovers: A Hidden Octagonal Home 
If you are looking to go back in time (without sacrificing any comforts), the Seed House might just be the right place to do it with a unique collection of antique furnishings inside and the fairy-tale-like green spaces just outside. This renovated octagonal barn is engulfed by and blends in with the lush greenery, while being only a few minutes walk to the charming little town of Warrenton. Start your day at Drip Coffee + Market, and maybe end it at the local distillery, Locōrum. Abandon your car for the weekend and spend your days walking past historic homes and your nights cooking dinner before snuggling up for a movie or some board games.
---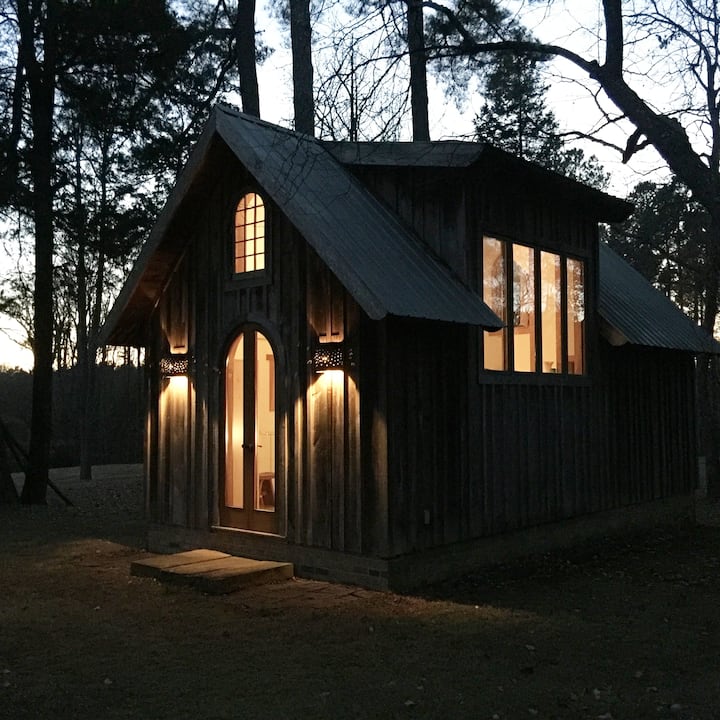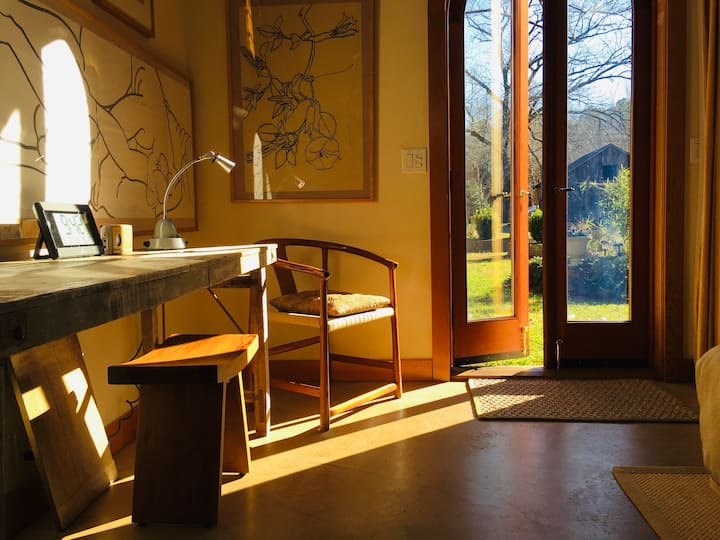 For Solitary Artists: A Studio Escape
If you need an environment to help you focus your creative energy, this idyllic little cabin built by a cabinet-maker may be just the place for you to write your novel, finish your album, or paint your next masterpiece with its abundant natural light, an inspired art collection on display throughout the space, and a muted natural color scheme that will not get in your creativity's way. Belonging to the previous garden illustrator for The New York Times, this space is a simple place to work with meditative green spaces directly outside when you need to catch a breath of fresh air. The home is centered between Saxapahaw, Hillsborough, and Carrboro. The literary charm of Hillsborough, and the youthful live music at Carrboro's Cat's Cradle is only a short drive away on the scenic roads of Orange County's farming land. Make sure to check out local landmark Maple View Farm Ice Cream to taste the sweetness of the rural Piedmont.
---
For a Couple of Vagabonds: A Stationary School Bus
This converted school bus is the perfect place for a couple to spend a weekend near the old mill village of Saxapahaw along the Haw River when they might not have the time to go any further away. Tucked into a country setting, this sometimes-mobile living space has a full kitchen with a SMEG fridge right out of your vintage daydreams for nights in making dinner and a fire pit for roasting marshmallows while you stargaze. Line up your weekend here with a show at the Haw River Ballroom and take a stop at the Saxapahaw General Store to stock up before you settle into a bus bound weekend.
---
For Modern Outdoorsmen: A Handmade Wooded Retreat
This light-flooded home is a nature lover's dream with windows revealing the forest outside on almost every wall and beautifully exposed wooden ceilings and trim throughout the entire home. We adore the stone floor, long live-edge coffee table, and wood burning fireplace that make the living area the perfect place for a night of card games and movies with friends and family alike. The outdoor patios offer so much room for quiet moments between the trees. With space for 9 guests, it's perfect for your next old friends' reunion trip or a trip away with your family. 
---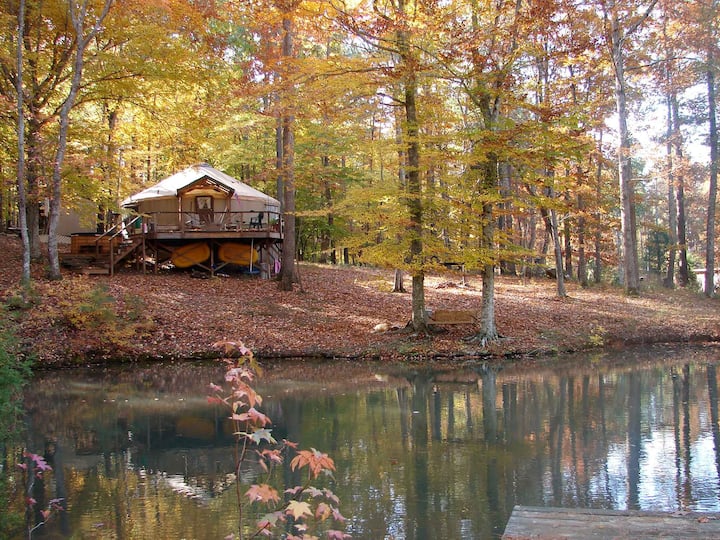 For Adventurous Old Friends: A Yurt for Four
Another Saxapahaw spot, this eccentric yurt has room for up to 4 guests – making it the perfect spot for a group of your adventurous friends to unplug together and have some outdoorsy fun. This big fancy tent is the perfect glamping experience for those who want to rough it but with assurance of a roof over your head in case it rains. But don't fret, you will still experience some of the more enjoyable parts of camping with a porch and firepit, plus a wood burning stove. This spot offers an opportunity for the grown-up sleepover of your dreams with a hot tub that will have your crew chit chatting into the evening over the nostalgic cicada's song. As the weather warms up, check out Haw River Canoe & Kayak to rent everything you might need to spend a day floating through the beautiful North Carolina Piedmont and reminiscing on childhood summers.
---
For Agrarians-at-Heart: A Fun-Sized Homestead House
Have you been longing for a weekend on a woodland farm, fresh eggs and all? This colorful tiny house is situated on the edge of a homestead with a large vegetable garden and a very friendly population of free-roaming chickens so you can get a taste of the farm life without traveling too far from home. The farm-style doesn't end at the front door though – a repurposed feeding trough bathtub, farmhouse sink and weathered wood throughout the house make sure to remind you what is just outside your door. Only 10-minutes away, the town of Hillsborough offers a quaint mainstreet with historic buildings and local food and drink options like Cup-A-Joe, Antonia's, and the Hillsborough BBQ Company. Let yourself disappear into the middle of nowhere during your stay and, when you get hungry, enjoy remembering that food is only a short (and beautiful) drive away.
---