Amazing rentals with wood-burning stoves, panoramic views of the Blue Ridge Mountains, hot tubs — and plenty of room for friends or family.
by Addie Ladner
From Cashers to Blowing Rock to Ashville, we scanned airbnb for some of the more comfortable-looking, stylish, and spacious vacation rentals for groups of family and friends. P.S. Checkout these tiny home vacation rentals in the mountains and these small towns to explore. Time to bundle up and head West…
Luxury Cabin in Sugar Grove
More than 3,000 feet up, this secluded cabin has panoramic views, a hot tub outside, and jacuzzi bath inside — plus all the log cabin vibes. The flannel bedding, bunk bed, and games make this a dreamy cozy option for a weekend family trip.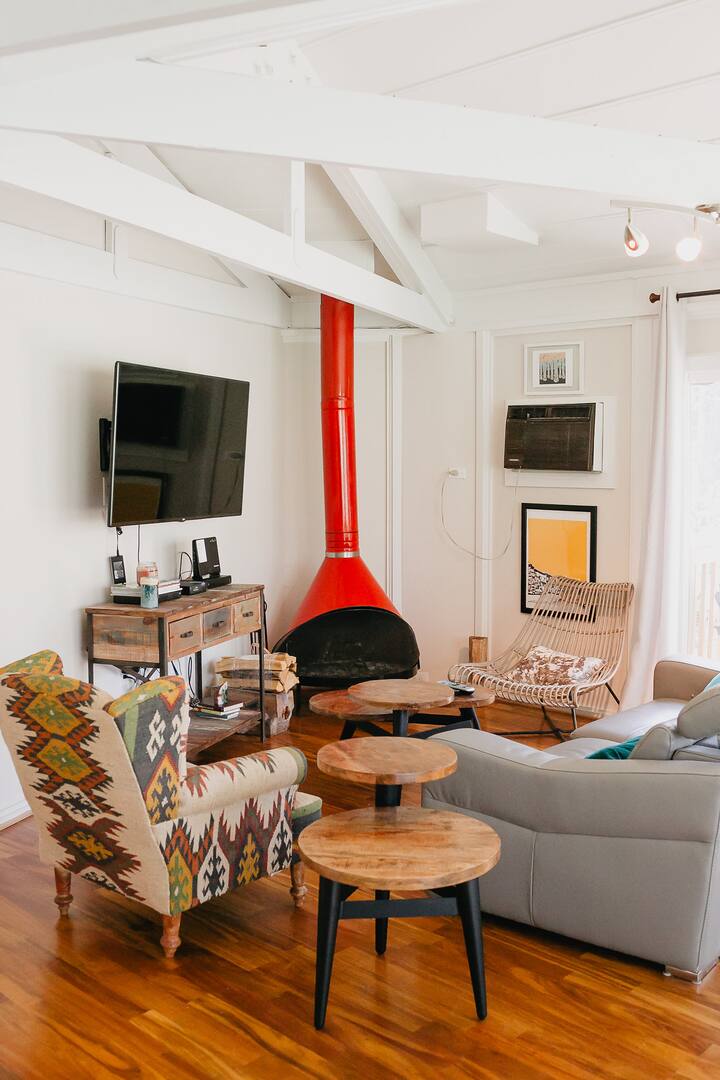 Chalet Laurel in Boone
Located just outside of Boone, home of Appalachian State University, Our Daily Bread, antique stores, and tons of great hikes and landmarks, this bohemian mountain house caught our eye with its wrought iron staircase, stone wall, green accents, and that red fireplace. Bonus: it's nestled on a golf course and has a fire pit!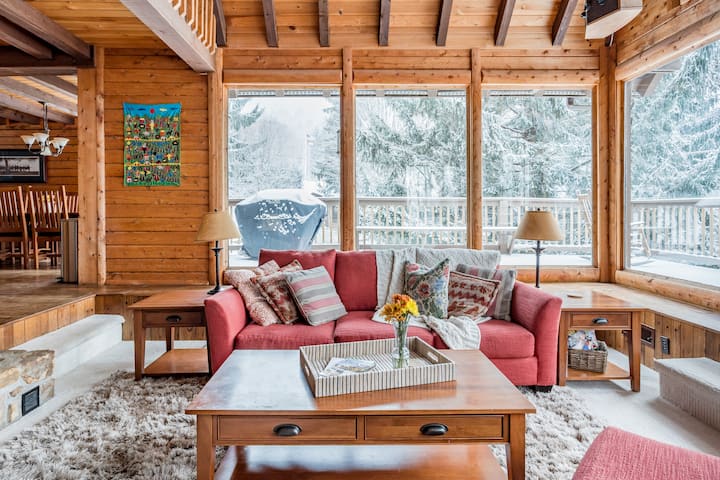 Otter Falls Cabin in Seven Devils
This country chic log cabin in Seven Devils looks dreamy for a big family or group of friends traveling together (sleeps 10!) with multiple sitting and eating areas, gorgeous pops of color against the natural large hardwood floors and walls and tons of views of cyprus trees throughout, a plus when it snows.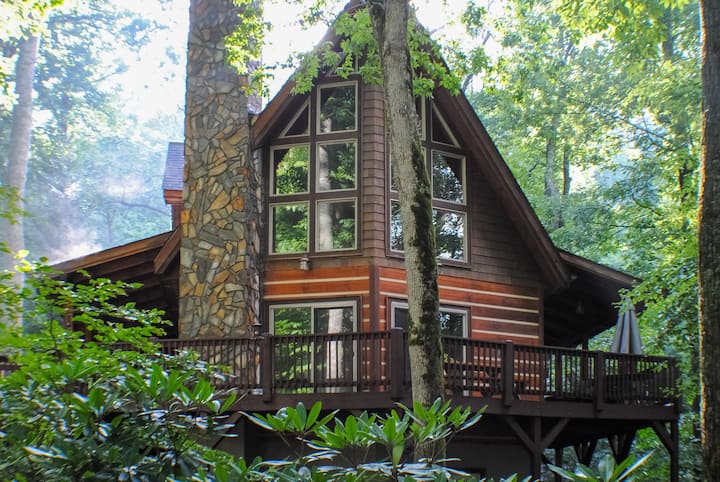 The Sanctuary in Blowing Rock
Foosball, pool, string lights, hot tubs, and plenty more add to this log cabin in Blowing Rock perfect for families of young kids (or adults too!). There's enough entertainment to spend your entire stay at the cabin itself but Blowing Rock is a draw, too, with multiple playgrounds, great restaurants, a community library to spend hours reading in, shops, and, of course, ice cream or fudge from Kilwins.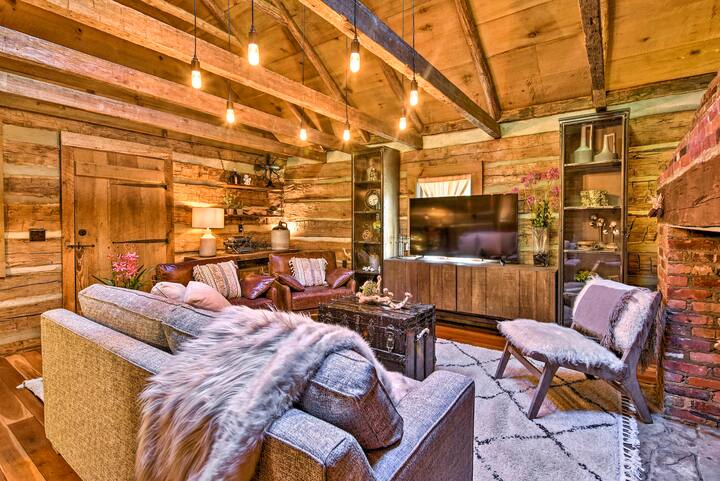 Cozy Retreat in Weaverwille
Just 10 minutes from Asheville, this historic log cabin is nestled on 10 acres of wooded land. One could easily park themselves in this home for days or use it as a homebase for exploring nearby Pisgah National Forest, Biltmore Estates, or pop in East Fork. The attention to detail caught our eye with this one with its creative lighting, soft rugs and blankets, and preservation of the cabin's original structure. 
Antler Ridge in Bryson City
In Bryson City, this spacious cabin has it all: floor-to-ceiling windows for panoramic views year-round, an outdoor fireplace, tongue and groove wood detailing, a hot tub, and a pool table. Venture out to explore nearby breweries, restaurants, and the Great Smoky Mountain Railroad and depot downtown.
Modern Mountain Retreat in Faireview
A contrast to the more log-cabin style homes common in Western North Carolina, this rental home caught our eye for it's more modern facade, interior design and art and blue tones. Go for the wood burning oven that warms the entire house, the custom-made furniture and rugs, and yes, the rock climbing wall and the views. It's located in Fairview, not far from Asheville.
Cove Farmhouse in Asheville

This new build near downtown Asheville caught our attention for its modern, all-white interior filled with natural light. And the old stone silo is way cool! The bunk beds, wood-burning stove, bear wall carving, and ample space to wander make this a perfect getaway for a big family.
The Wren in Highlands
Travel back in time at this historic cabin in Highlands, a vintage log cabin previously owned an eighth generation Highland family. Set on 28 acres, the log cabin has a lovely modern farm house style with a claw foot tub, exposed old wood walls, pastel accents, and comfortable lounge seating.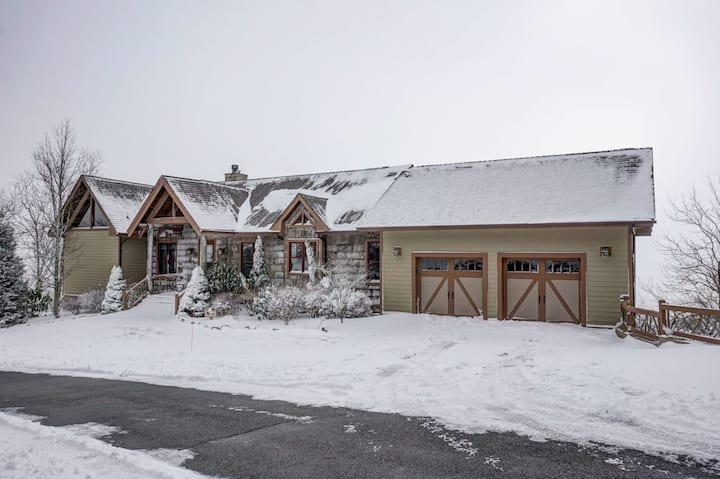 Cloud Chase in Banner Elk
This 6 bedroom, 4 bathroom lodge set on top of Beech Mountain is perfect for ski lovers, with a ski resort just two miles away. The elevation offers wondrous views all year (especially magical white ones come winter) and multiple fire places to keep you warm along with plenty other amenities.
______
This articial was originally published in November, 2021 on waltermagazine.com