From the changing leaves in Umstead State Park to State Fair treats and spooky Halloween activities, there's lots of stuff to do in the Triangle this month!
by Kara Adams and Addie Ladner
Head Downtown for IBMA's Bluegrass Live!
We can't wait for the streets to be filled with banjo-strummers, warblers, clog-dancers, and bluegrass lovers from all over the country! At this year's IBMA Bluegrass Live!, enjoy the genre's finest, including Béla Fleck, Sierra Hull, Justin Moses, and The Del McCoury Band, on the main stage at Red Hat Amphitheatre and six outdoor stages around Fayetteville Street. Beyond the music, you can browse a variety of vendors selling goods for the bluegrass professional and fan alike. Proof of vaccine is required.
Oct. 1 – 2; Free general admission; From $25 for certain performances; see website for locations; worldofbluegrass.org/festival
Cheer on the Carolina Hurricanes
Opening night for our champion home team, the Carolina Hurricanes is just a few weeks away with tons of home games at PNC after that. We caught up with Canes coach Rod Brind'Amour in our October issue.
Enjoy the StoryWalks at Umstead State Park
Grab the kids and head over to William B. Umstead State Park for a trek among the fall leaves with a side of literature. Each weekend this month, a different book — including We're Going on a Leaf Hunt by Steve Metzger, The Carrot Seed by Ruth Krauss, and Room on the Broom by Julia Donaldson — will be on display along the Inspiration Trail, to be read aloud as you walk along the half-mile path.
All month | 8 a.m. – 9 p.m; Free; 2100 N. Harrison Avenue, Cary; ncparks.gov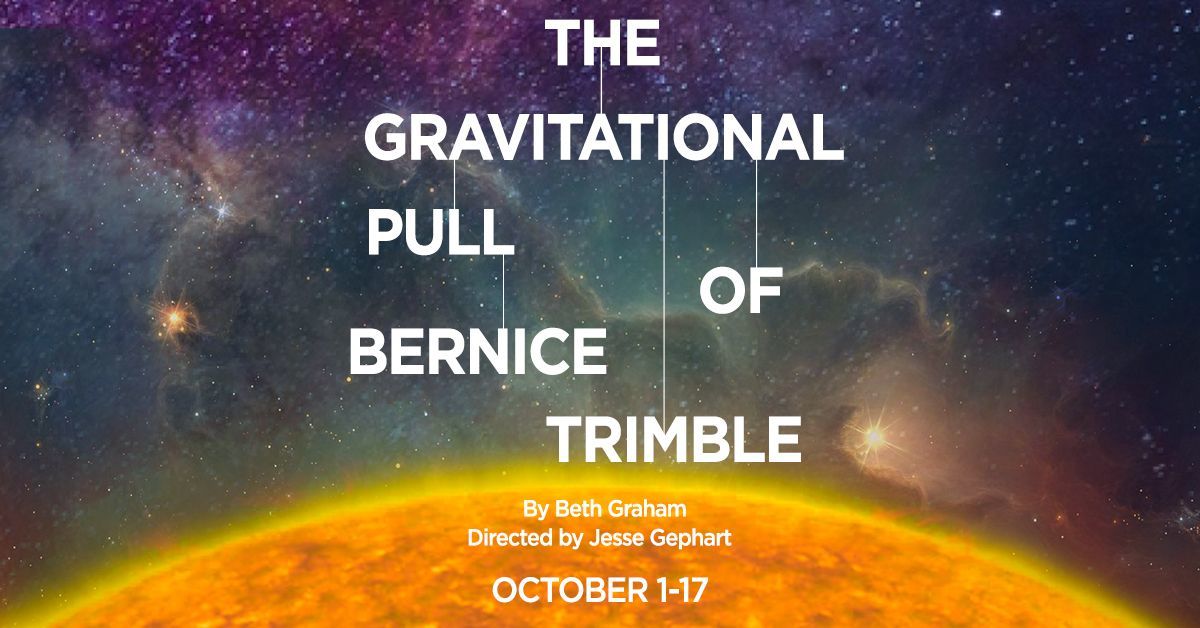 See Theatre in the Park's The Gravitational Pull of Bernice Trimble
Playwright Beth Graham's original play, The Gravitational Pull of Bernice Trimble, will close out Theatre in the Park's 2021 season with a compelling family drama. The story follows Bernice's children as they grapple with their mother's early onset Alzheimer's diagnosis, from the family meeting where the news is broken all the way through the following stages of grief.
Oct. 1 – 17; $27; 107 Pullen Road; theatreinthepark.com
See Men are from Mars – Women are from Venus LIVE!
Based on the bestselling book by relationship counselor John Gray, this "one-man fusion of theatre and stand-up" moves through a series of vignettes focusing on relationship stages from dating to marriage and beyond. The production combines intriguing storytelling, uproarious comedy, all-too-relatable relationship problems, and a dash of wisdom from the book.
Oct. 2 @ 4 & 8:00 p.m.; From $57; 2 E. South Street; dukeenergycenterraleigh.com/event-calendar
Eat Fine Food from Fine Folk
After a year of pop-ups, Chris Lopez and John Kleinert are serving up a funnnew menu with Fine Folk in Gateway Plaza.
Ride the Mountains to Coast Bike Ride
Experience our state in a new way through a weeklong ride from Sparta to North Topsail Beach. Organized by Cycle North Carolina, the annual Mountains to Coast Bike Ride covers a different route each year, and includes campsites, food, and beverage options at each overnight stop, along with luggage transport and bike tech support along the way. Each day of cycling covers between 50-70 miles.
Oct. 2 – 9 ; From $245; Starts at 404 Trojan Avenue, Sparta; ncsports.org
Take your Pet to a Blessing of the Animals Ceremony
Each year, Christians around the world honor the life of Saint Francis of Assisi, the patron saint of animals, on October 4. At many churches, it's an opportunity for parishioners to bring their beloved pets in for a blessing, from dogs and cats to fish and lizards. Click here to find local places of worship around the Triangle that will hold a special ceremony.
Head to Beaufort for the Wine and Food Festival
Plan a road trip to the Crystal Coast for a festival that pays homage to Beaufort's maritime roots by pairing fine wine and spirits with the culinary talents of Carteret County. Over the course of the weekend, tickets to beachside events will be available for purchase, including a five-course meal on the docks, a "Sip and Shop" fashion show, a blues-inspired brunch with Chef Michael Lee, and other events around the historic town.
Oct. 7 – 10; Events from $50; 129 Middle Lane, Beaufort; beaufortwineandfood.org
See Burning Coal's I and You
See Burning Coal's main stage production of I and You, the original play by Lauren Gunderson that follows high-school student Caroline as she becomes housebound with a debilitating illness and is forced to stay home in Raleigh while the world continues on without her. She grows increasingly bored, angry and desperate — until a popular classmate from her school arrives at her door with a surprise.
Oct. 7 – 24 ; $25; 224 Polk Street; burningcoal.org/i-and-you/
Got to the NC Wine, Cheese & Chocolate Festival at Lafayette Village
Come hungry to Lafayette Village for the sixth annual NC Wine, Cheese & Chocolate Festival. Stroll through the locally-owned shopping area while sampling a curated selection of wines, cheeses, and chocolates to the sound of live local music. The festival is also offering an express format this year, featuring party box options available for pickup and carryout from The Chocolate Boutique.
Oct. 9 | 12 – 6 p.m; From $40; 8450 Honeycutt Road; lafayettevillageraleigh.com
Head downtown for Artsplosure
A celebration of creators of all stripes, Artsplosure offers a chance to listen to live music from the likes of Son Little, Brittney Spencer, and Aaron Lee Tasjan while exploring more than 175 vendors showcasing their original work in the Art Market. Paintings, photography, pottery, jewelry, and woodwork by local artists will be available for purchase, and little artists-in-training are encouraged to enjoy the free arts and crafts at Kidsplosure.
Oct. 9 – 10; Free; 19 W. Hargett Street; raleighartsfestival.com
See NCSU's A Midsummer Night's Dream
See William Shakespeare's comedy filled with mystical fairies, unrequited love, and the woes of amateur theater as part of North Carolina State University Theatre's Producing Series. Performed by university students, there will be 10 showings of the play in the evenings and afternoons at Titmus Theatre.
Oct. 14 – 24; 2241 Dunn Avenue; theatre.arts.ncsu.edu/programs/producing-series/
Play at the North Carolina State Fair
Did you miss The Village of Yesteryear, the smell of smoky grilled corn, or the spectacle of prize-winning produce? Us, too. The North Carolina State Fair is back this year with all the food, rides, games, and agricultural displays it's known for. Whether you're steeling your stomach for the Tilt-A-Whirl or a slice of deep-fried pumpkin pie, we agree that, as it's themed, the fair is "Worth the Wait."
Oct. 14 – 24; From $10; 4285 Trinity Road; ncstatefair.org
Watch Carolina Ballet's The Legend of Sleepy Hollow
Carolina Ballet's Artistic Director Zalman Raffael brings Washington Irving's classic to life at Fletcher Opera Theater this Halloween season. In addition to the tale of Ichabod Crane and the Headless Horseman, the program will feature a performance of Robert Weiss' Lady in the White Veil as an opener. After the two ballet performances guests will enjoy a reading of Edgar Allan Poe's The Raven.
Oct. 14 – 31; $27-$84; 2 E. South Street; carolinaballet.com
Fall for Local at Dix Park
Frolic through an autumn afternoon at Dorothea Dix Park's Big Field, where live music, local makers, vendors, brewers, and more will be set up for the Falling for Local festival. Chow down on cuisine from dozens of food trucks, and bring the whole family to enjoy the Kids Zone, with free pumpkins, hayrides, and other activities.
Oct. 16 | 11 a.m. – 6 p.m.; Free but registration preferred; 101 Blair Drive; dorotheadixpark.org
See work by Salvador Dali at LaMantia
Fine art gallery LaMantia Gallery is presenting Salvador Dali: The Argillet Collection on exhibition beginning October 6th 2021. The exhibition is a rare opportunity to meet Madame Christine Argillet, daughter of Dali's legendary publisher and confidante Pierre Argillet, during scheduled special appearances by Madame Argillet for the public.
Saturday, October 16th 2021: 11:00 am – 1 pm and 5:00 pm – 7:00 pm & Sunday, October 17th 2021, 1 pm – 3 pm. RSVP here
Support the Art of Recovery Fundraiser
Breaking the stigma of addiction with the power of art — that's the theme of this fundraiser for Healing Transitions, an organization with a mission to help those struggling with addiction find a safe and healthy way to recover for good. The event will include an exhibit of work by local artists who are in recovery or have been impacted by addiction, interactive art stations, live music, and spoken word testimonies. There will also be non-alcoholic cocktails and fellowship opportunities for those affected by addiction. Windi White, director of development and co-founder of Art of Recovery, started teaching painting workshops and art therapy after healing herself through recovery. "I have seen miracles happen during these sessions, and I'm grateful to have been a small part of their recovery through art," says White. The gallery will be packed with students of White's, including James Y., who said her class "helped me to get in touch with my emotions, showed me a better understanding of my struggle with addiction, and gave me a better chance to begin the rocky road of recovery."
Oct. 16 | 6 – 9 p.m; Pay what you can; Greg Poole, Jr. All Faiths Chapel in Dix Park; 1030 Richardson Drive.;healing-transitions.org
Stretch it out at Dix Park
Find your flow in this free community yoga class where you'll learn all about moving to the unique rhythm of your breath and body with vinyasa flow practice. This class is better suited to those who have participated in yoga classes or practice before, but check out Dorothea Dix Park's calendar for a variety of yoga classes for newbies and pros alike.
Oct. 18 | 6 – 7 p.m.; Free; 1800 Umstead Drive; dorotheadixpark.org/event/yoga-park-51
Hear the North Carolina Symphony's Mendelssohn & Brahms
Be enchanted by Simone Porter on the violin, performing a collection of pieces including Villa-Lobos' Bachianas Brasileiras No. 9, Mendelssohn's Violin Concerto, and Brahms' Symphony No. 1. Joined by conductor Marcelo Lehninger, Porter's recital marks the return of the North Carolina Symphony's Friday Favorites series in the Meymandi Concert Hall.
Oct. 22-23; 2 E. South Street; ncsymphony.org
See Costumers from Downton Abbey at the NC Museum of History
Experience the glitz and glamor of historical drama sensation Downton Abbey at the North Carolina Museum of History's Dressing the Abbey exhibit. See 35 original costumes worn by the show's stars that depict the progression of style of the British aristocracy in the early 20th century. "We are thrilled that the North Carolina Museum of History is able to bring this exhibition to Raleigh. Our visitors and all the adoring fans of Downton Abbey will enjoy seeing the costumes from this award-winning program that so captured the public's attention." says museum director Ken Howard.
Oct. 23 – Jan. 17, 2022; $15; 5 E. Edenton Street; ncmuseumofhistory.org
Jam out at Band Together's Comeback Fest
This year, Band Together's annual music-led fundraiser is called Comeback Fest — a nod to both taking the show live again this year and the cause they're supporting. They're partnering with United Way of the Greater Triangle to raise $2 million to benefit nonprofits at the frontline of pandemic recovery as folks jam along to headliners Khruangbin, Big Daddy Kane, and Lee Fields and the Expressions.
Oct. 23 | 6:30 p.m.; From $20; 500 S. McDowell Street; bandtogethernc.org
Hear Scores from Star Wars & More with the North Carolina Symphony
Join the North Carolina Symphony for an epic performance of famed composer John Williams' scores, including iconic tracks from blockbusters like Jurassic Park, Harry Potter, E.T., and of course, Star Wars. Feel the force of the music as conductor David Glover fills the Meymandi Concert Hall with the thrilling notes.
Oct. 28 – 30; 2 E South Street; ncsymphony.org
Make Something with Sweet Potatoes
Fall in North Carolina is the sweet potato's time to shine. From the best way to bake 'em to a cocktail infused with this tuber, consider these sweet potato recipes this season.
Listen to the North Carolina Master Chorale's Bewitched
Kick off Halloween early with the voices of the North Carolina Master Chorale, accompanied by pianist Susan McClaskey Lohr, as they perform selections from Bach, Brahms, and Britten under the stained-glass windows at Hayes Barton United Methodist Church. This magical performance will also include picks from pop and musical theatre to charm audiences members of all ages.
Oct. 29 | 7:30 p.m.; $35; 2209 Fairview Road; ncmasterchorale.org
Check Out the Hayes Barton Centennial in Five Points
Food trucks, narrated trolley rides, antique car displays, a vintage fire truck, historic exhibits, face painting, balloon art, costumed dog contest, kids' movies at the Rialto, and live music (from NC's own Chatham Rabbits!) will create a weekend not to be missed for all ages at the Hayes Barton Centennial celebration. Fairview Road will be closed Saturday, October 30 from Glenwood to Jarvis Street while the community celebrates the Hayes Barton 100th birthday, an event open to the public.
October 29 – 31; free admission; Five Points, details here
Celebrate Halloween Around Town
From visiting local haunted spots to sipping a toasted marshmallow latte, here are some ideas for Halloween in Raleigh this year.