These local vacation rentals have stand-out interiors and amenities, offering a welcome change of scenery.
by: Addie Ladner and Brian Rosenweig
Whether you want to find the perfect spot for visitors with exacting taste or just need a break from spending every waking minute inside your own house, you may be in the market for a stylish local rental. Each of these spaces has its own personality with done-up interiors, great amenities, and central locations, to boot. Here are 10 stylish Airbnbs to bookmark for your guests — or your next staycation.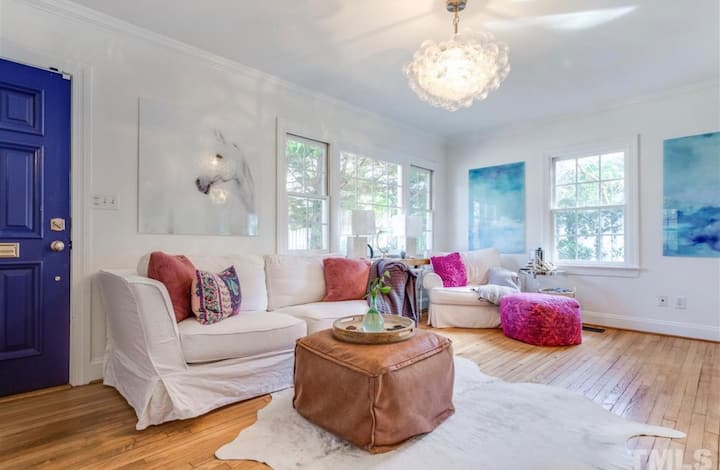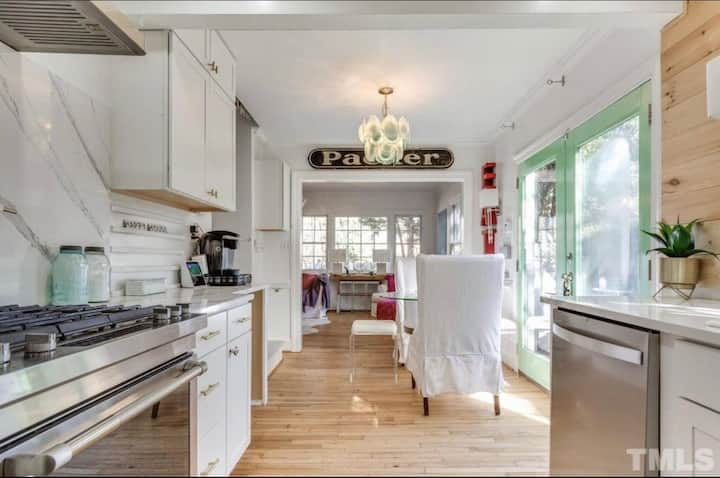 For the Wanderluster: Heart of the City
This bungalow off Wade Avenue in the University Park area immediately caught our eye for its ample natural light and impressive mix of modern touches mixed with rustic charm. (And if your own home is feeling cluttered these days, the all-white and linen palette is easy on the eyes.) One could spend hours in this loft alone with a stack of books or a good film. While you're there, grab a coffee from Cup A Joe on Hillsborough Street, dinner from David's Dumplings, and sign up for a time to visit the Gregg Museum.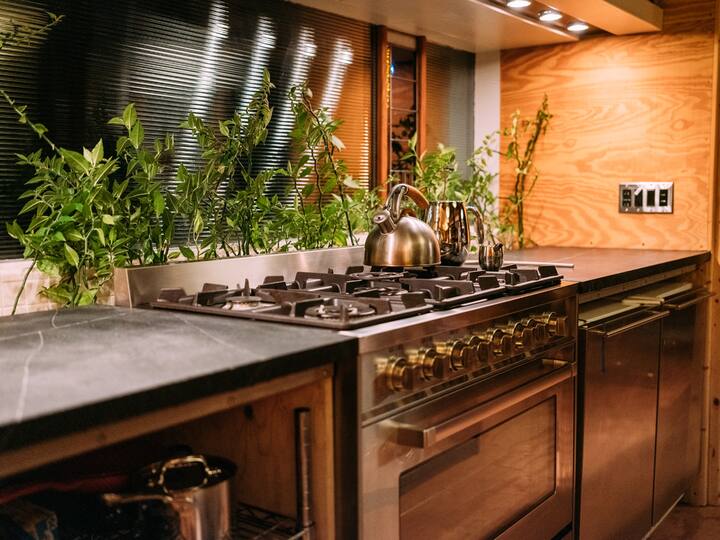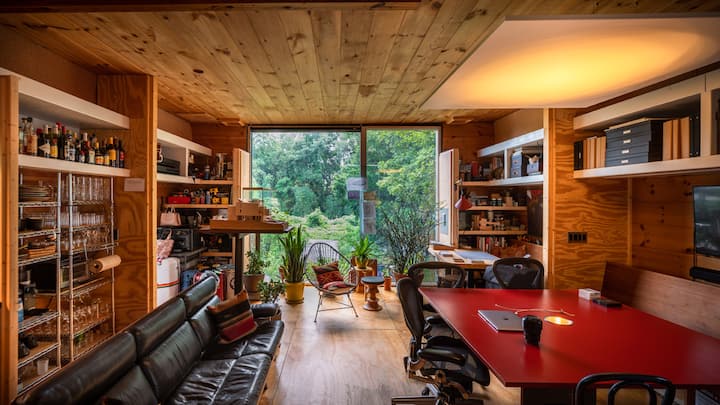 For the Intellectual: Architect's Atelier: Urban Retreat
Live the professorial dream at this industrial-modern vacation rental full of plants, maps, books, and art. It appears the host goes the extra mile and provides their guests with a few local provisions to start their stay off. Kids aren't recommended at this one. It looks like the perfect space to park yourself for a weekend of writing your memoirs. Located near Pullen Park, stop in nearby Boulted Bread for some carb-forward provisions or close-by Trophy Brewing for beers and pizza or charming Irregardless Cafe for a romantic dinner. A walk through Dix Park isn't too far either.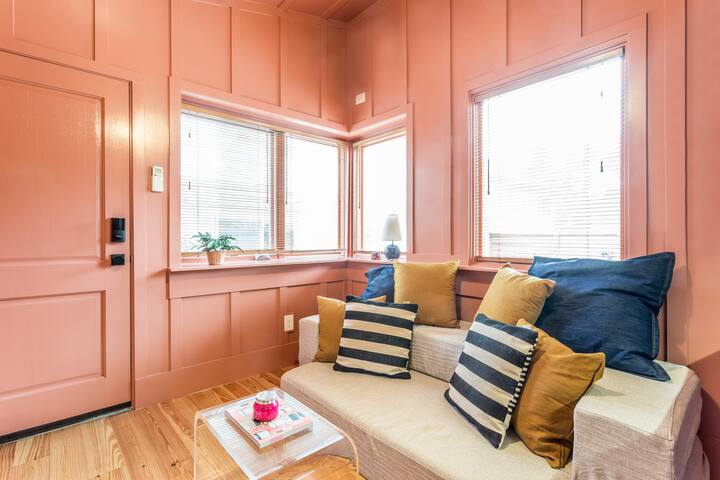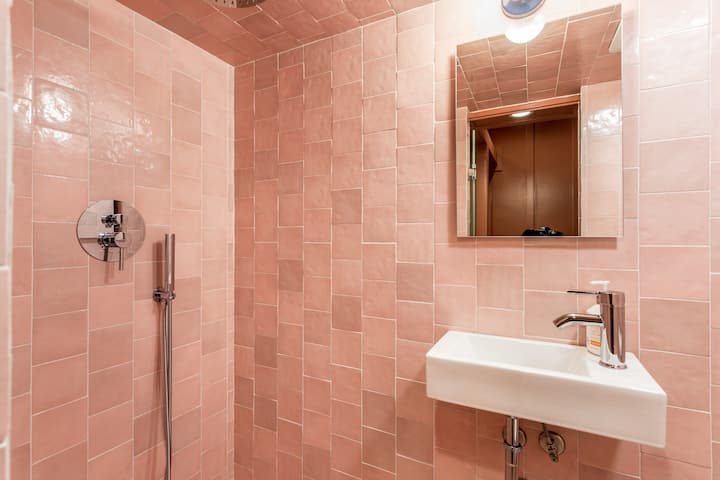 For a Weekend Solo: A Cozy Backhouse
Located in Cameron Park, the smart use of this tiny space with all the blush-colored walls and nautical vibes caught our eye (see the loft bed too!). With the amenities of the Village District nearby (we recommend Tazza for tacos and Benelux for coffee and breakfast), or head to the Rose Garden for some relaxing time outside or a show at Raleigh Little Theatre. This sweet nook would be perfect for a work remote tenure or say you need to ride out a quarantine.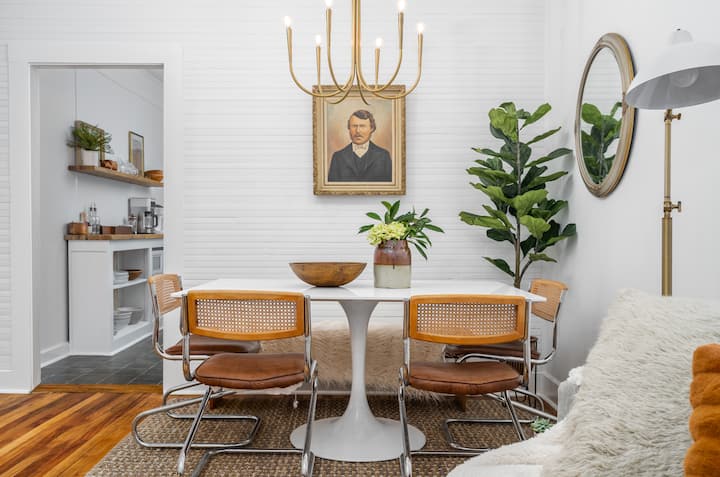 For the Naturalist: The Mill House~Historic River Retreat
For lovers of Scandinavian-inspired and less-is-more design, this bungalow (built in 1901!) with a perfectly done neutral palette is perfect for small families (see built-in bunkbeds) or couples. Another spot one might happily be cooped up in for days. Located in North Raleigh, this retreat is close to Falls Lake and the Neuse River Greenway, making it the perfect spot for a nature-inspired getaway. After working up an appetite, grab a gourmet authentic French dinner to-go from Saint Jacques and enjoy dinner "at home" in that cozy dining area. For coffee, breakfast, or lunch options, venture to Sola Coffee and Two Roosters for ice cream any time of day then lounge in those cushioned porch swings.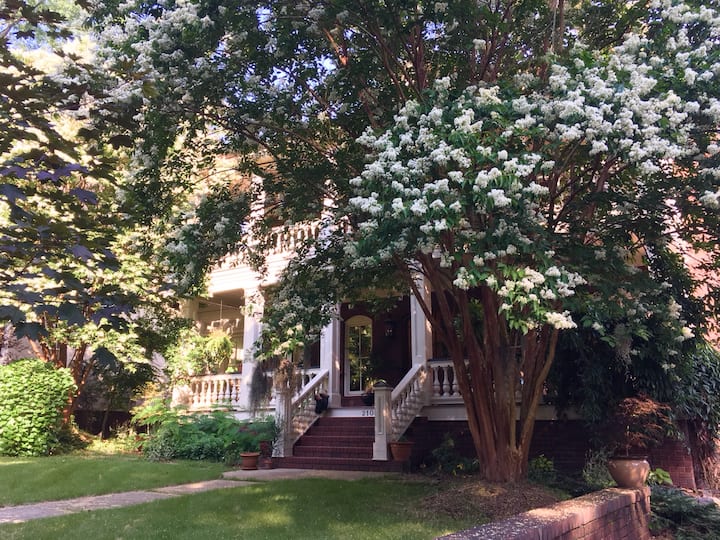 For the Renaissance man (or woman): A Southern Gothic Suite
Located in historic Hayes Barton, this gothic-style suite, part of a spacious home features timeless high-end furnishings, and all the warm vibes. Complete with a private sitting room, a massive walk-in closet, and the prime selling point: a gorgeous second-story veranda with rocking chairs and a view of the garden that changes with the season, it's a perfect for a weekend getaway for the struggling creative in need of inspiration. Pop into Des Livres et Delices in Five Points for French stationery, art, cheese, and wine, enjoy brunch at nearby NOFO, or a craft brew at Nickelpoint. Or, prepare a picnic to enjoy an early spring day at Fred Fletcher Park. Whatever you choose, take comfort in the soft queen-sized bed and stylish rooms you'll come home to after a day out where you can binge watch classic black and white films.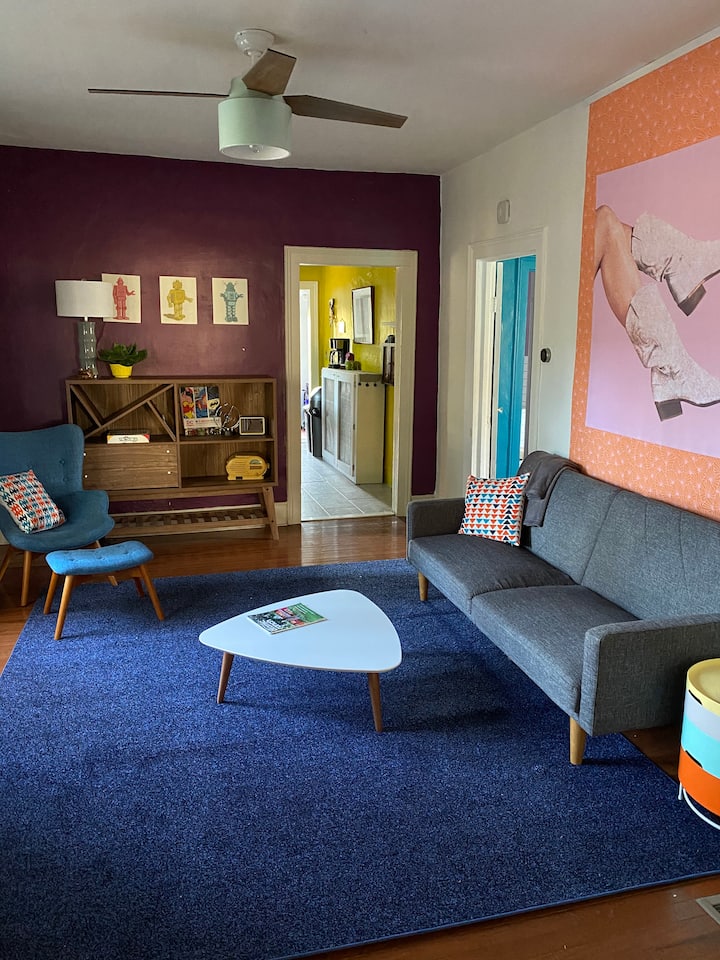 For the English Expat: A Modern Bungalow
Located at the intersection of Oakwood and Mordecai, this 1920s-era Craftsman bungalow is filled wall-to-wall with vibrant colored walls, mid-century furniture, and vintage decor that looks to be inspired by a love of music. It feels at once retro, modern, and comfortable. Complete with a full-size kitchen, large soaking tub, and a dedicated workspace, this two-bedroom, four guest bungalow makes for a great getaway for a small group of friends or someone in need of an interesting spot to quarantine. Head to charming the Person St area for coffee and baked goods from Yellow Dog Bread Co., cocktails at William & Company in the evening and a lovely dinner at French bistro Jolie. If like the owners of this rental, you or your guests like music also, don't miss taking a drive to Nice Price Books and Records on Hillsborough Street. Go ahead and set your Pandora playlist to the Beatles, Keane and other British rock bands. Or if Harry Styles and Ed Sheeran is more your taste, we don't judge.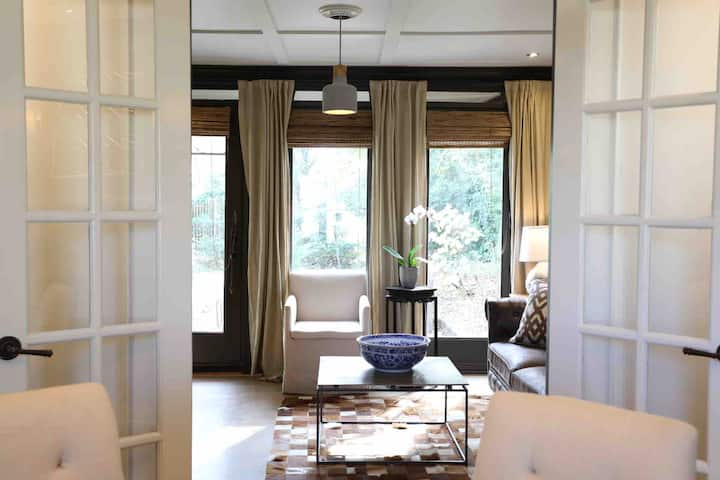 For the at-home escapist: Downtown Pied-à-Terre
Located near Battery Heights, this luxurious and elegant space would make for a great self-care weekend away . Filled with thoughtful, modern furnishings and dark, earthy tones, this space brings an elevated experience for those in need of a high-class de-stressor, spa day, or quiet weekend in. Whether catching up on reading (we spy some biscottis in the cookie jar and some great coffee table books too), cooking, or simply relaxing, relish in the space's nearly floor-to-ceiling windows, full-sized kitchen, classy furnishings, and zen outdoor patio. Grab a pizza from Frank's then frozen custard at Goodberry's. Head to the Alamo Draft House Theater for a field trip (if you plan ahead, you can book an entire theater for yourself and your friends) or book yourself at a downtown spa. There's always the option for an at-home spa experience with the help of these local places.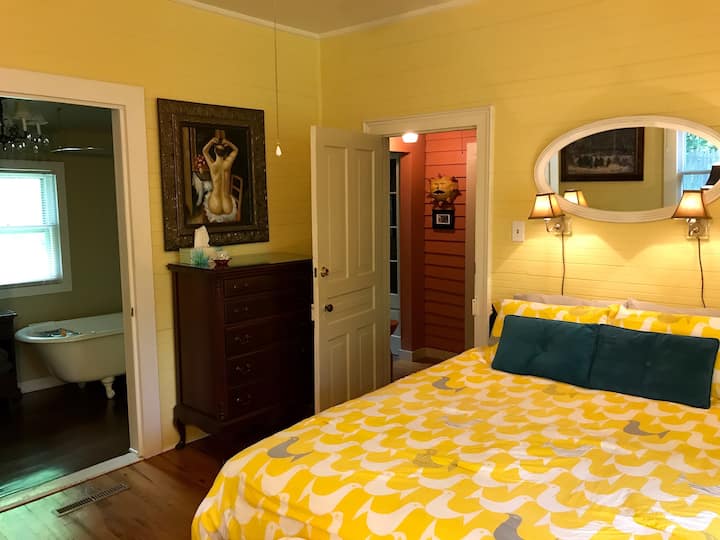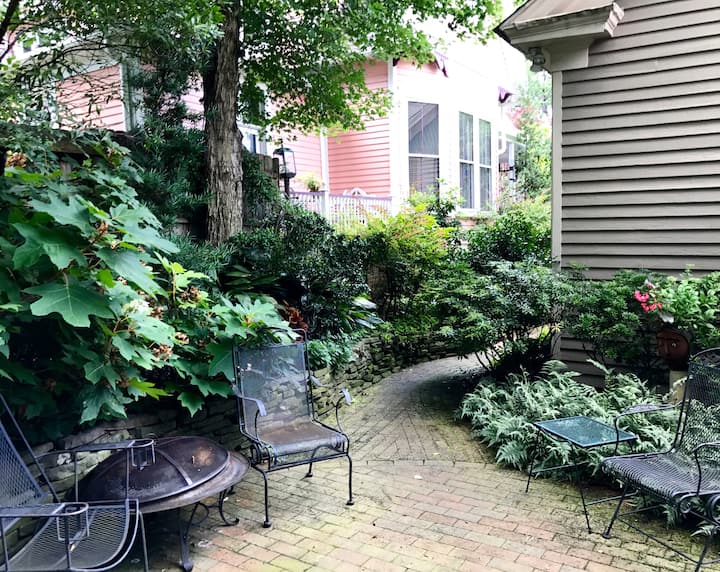 For the Old Soul: Cookie's Garden Suite
History buffs and plant lovers alike will love this small space In Historic Oakwood, a charming, old-fashioned suite nestled in a sprawling backyard garden is perfect for a low-key weekend away. Aside from the gorgeous greenery, this private suite has even more wonders on the inside, with a bistro table, a coffee station, and a stunning clawfoot tub. Sweeten the morning with a walk up to The Optimist for a latte, have a classic Southern lunch at Side Street Restaurant. Or head to Logan's to browse plants, gifts and more, then pick up dinner from SmokeStacks Cafe or Longleaf Swine BBQ to dine in the garden. The North Carolina Museum of History is also not too far away.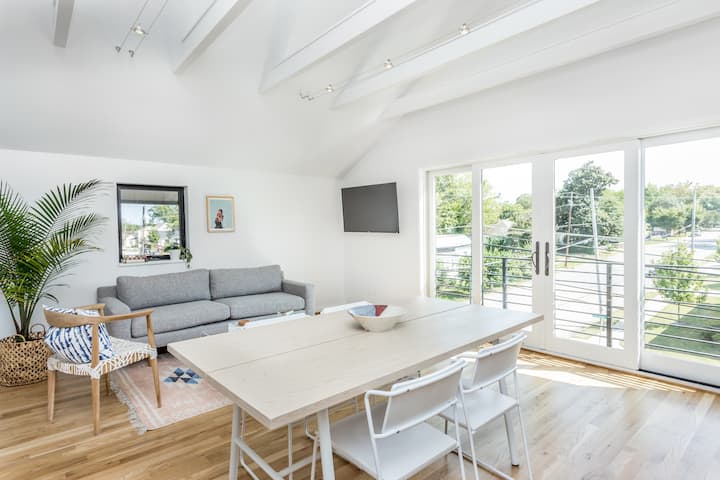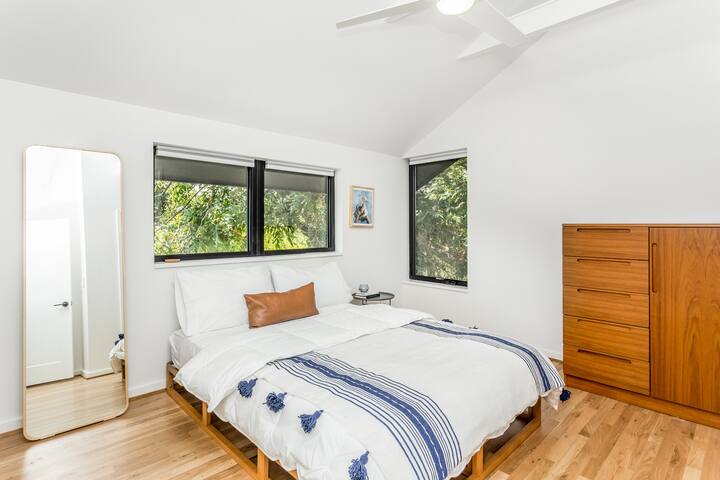 For the Minimalist: Penthouse Living
For when the chaos and clutter of endless Zoom links and online work become too much to bear, why not destress somewhere that keeps it simple? Housed in downtown, this penthouse filled with tons of natural light, clean lines and minimalist furnishings is spacious, sleek, and simple. It's an ideal place to declutter your mind and kick back for a weekend. A three-story condo, it looks to be the perfect biking distance from delicious cantina eats at Gringo A Go Go, Transfer Co's many food and beverage options (can never go wrong with fresh oysters from Locals), or some fruit and vegetable forward juices, smoothies and warm drinks from Raleigh Raw. A walk through ArtSpace on the weekend is also a good idea. While "home," enjoy the quaint patio area, the balcony, or just the comfortable furniture the unit has to offer.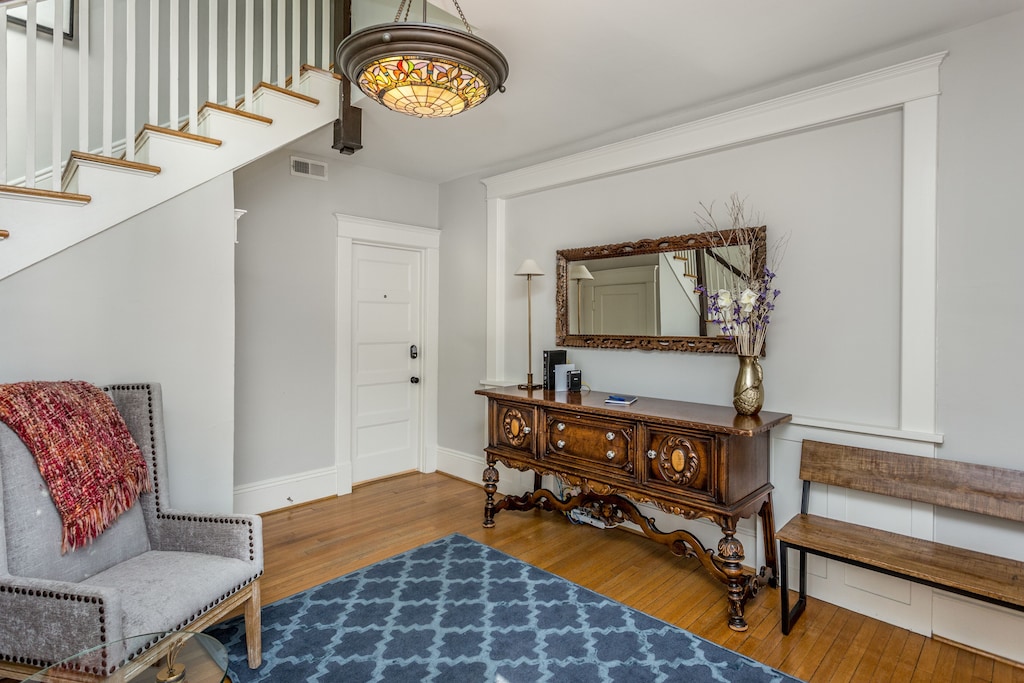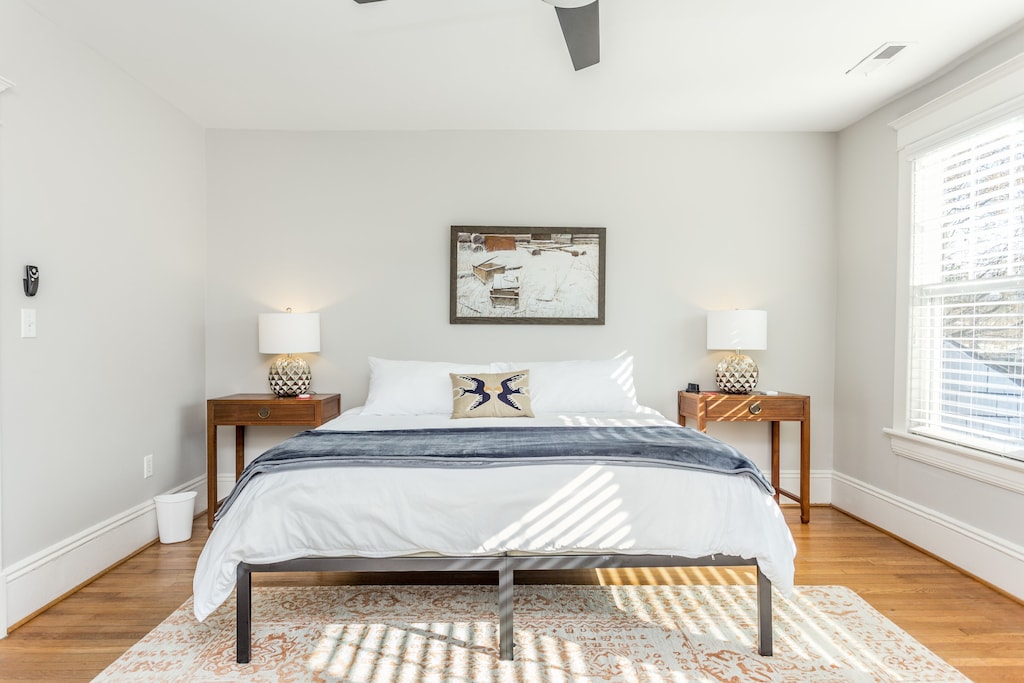 For a Family wanting Fun: A Downtown Haven
A family friendly rental that doesn't sacrifice style, this spacious home in the heart of downtown would be perfect for those visiting with young kids or a group traveling in need of a welcome change of scenery with plenty of space and beds to share. There's also a small nursery, sweet porch, and a backyard for swinging and grilling while there. Reserve a time for the kids to play at Marbles or pack and picnic (perhaps chicken and biscuits from Beasley's or po-boys from St. Rochs) and board games for an afternoon outside at Moore Square. A field trip to nearby Walnut Creek Wetland Park to stretch your legs is also a good idea.