From unique native varietals to succulents to edibles, bookmark this list of local plant centers in the Triangle for spring and summer gardening. Some serve wine and food, too!
by Riley Bensen
The days are getting longer, the weather is warming up, flowers are beginning to bloom — spring is here, folks! All of us are ready to enjoy long walks, host guests outside, and simply watch the outdoors come back to life.
While North Carolina's weather can sometimes be unpredictable, we have to give Raleigh credit for typically giving us a lovely spring. Each April and May there is a period of time where it's not too hot and not too cold. Days and evenings can be pleasantly spent outdoors, with a few purple-pink sunsets each week. All the more reason to head to one of the many local nurseries in town for seeds, shrubs, fruit trees, and whatever else you'd like to take a stab at growing this year. Have a look at this list, it's time to get in the garden and get your hands a little dirty!
Atlantic Gardening Company
Off Atlantic Avenue, this garden center's outdoor nursery spans the property's six acres with outdoor plants ranging from annual and perennial plants to tropical and water plants. Atlantic Gardening has a solid selection of edible plants for growing in the spring and summer and are hoping to get their workshops and seminars on edible gardening started again soon. The 5,000 square foot greenhouse has an extensive supply of houseplants, orchids, succulents, and air plants, and the floral studio is stocked with grab-and-go arrangements (complete with a cut flower bar!). This spot is unique in its large hydroponics section and intentionally interactive and hospitable shopping experience: create your own unique bouquet at the cut flower bar, choosing from various fresh flowers and vases, and then head over to the garden bar and sip on a local beer (from garden tool taps!), cider, or mimosa. Open Monday through Saturday 9 a.m. to 5 p.m. and Sunday 11 a.m. to 5 p.m., mask required.
5217 Atlantic Avenue, Raleigh,| atlanticgardening.com
Campbell Road Nursery
Campbell Road Nursery in southwest Raleigh has many options for customers as they offer both retail and wholesale but they notably sell annual and perennial plants, edibles, shrubs, potted plants, and fruit trees. The nursery was originally opened by a North Carolina State University horticulture professor, and the old country cabin that functions as the main office of the nursery was recently preserved by being picked up on a trailer and moved to a new location. Campbell Road prides itself on its top-notch customer service with knowledgeable staff ready to give free counseling and on where and what to plant if you bring in a picture of your yard. Take advantage of custom ordering shrubs and trees from their nursery suppliers. Open Monday through Friday 10 a.m. to 5 p.m., Saturday from 9 a.m. to 5 p.m., mask required. 2500 Campbell Road, Raleigh| campbellrdnursery.com
Fairview Garden Center
Fairview Nursery is a greenhouse and garden center with three generations of a loving family dutifully looking after a wide variety of annual and perennial plants, shrubs, and trees, with a fourth generation of little ones running around and exploring a world of plants and flowers. In line with its family-centered values, Fairview has a planting service and a personal consultation service that will help you figure out the best course of action for your yard. Also worth noting is the nursery's blog, offering garden tips and tricks, and updates on the garden center. Open Monday through Saturday from 9 a.m. to 5 p.m. and Sunday from 1 p.m. to 5 p.m., mask required to shop and also offering pickup orders.
224 Holly Springs Road, Raleigh,| fairviewgardencenter.com
Field to Cottage Nursery
Field to Cottage Nursery is a small greenhouse and nursery that was started in 2016 with the intention to fill the needs of those looking for native and sustainably raised plants. Field to Cottage not only specializes in native plants, heirloom flowers, and vegetables but also uniquely is focused in medicinal herbs as well. In tune with their "let nature run its course" philosophy, Field to Cottage encourages their customers to adopt a more wild style of landscaping as they believe it is the best way for native flora and fauna to thrive. It's currently open by appointment only so customers will not overlap. Pickup date and time will be scheduled when you check out through their online ordering system; however, they do sell plants on their roadside stands throughout the spring on King Lawrence Road in Cary and Trinity Road in Raleigh.
12405 Norwood Road, Raleigh| fieldtocottage.com
Garden Supply Company
The Garden Supply Company grew out of a landscape and design firm in Cary and now sells all sorts of plants, garden supplies, household items, and decor in addition to their professional landscaping services. Here you can even get set up with your own bee colony and learn the basics of beekeeping. Want to support the pollinator population without becoming a beekeeper? Sponsor a beehive colony through 2021 Host-a-Hive. Founder Keith Ramsey also has a biweekly podcast, In the Garden with Keith Ramsey, that gives advice to listeners on how to maintain a healthy garden. Open Monday through Friday 9 a.m. to 6 p.m., Saturday from 8 a.m. to 6 p.m., and Sunday 11 a.m. to 5 p.m., mask required.
1421 Old Apex Road, Cary| gardensupplyco.com
Homewood Nursery
Near Falls Lake, Homewood Nursery is spread across four acres that includes greenhouses, a garden center, and an outdoor nursery department. Homewood has a large selection of edibles and the terrarium bar, tropical plants sold year round, and the Homewood-grown roses are not to be missed. Bring the kids along and amaze them with the fairy garden section (miniature plants). A trip to Homewood becomes an even more exciting outing this spring as there will be a variety of different Raleigh food trucks such as The Smoke N Jerk and Tenco Coffee visiting each Friday. The nursery also provides a variety of helpful services such as landscaping, container garden design, and delivery for more difficult to transport items. Open Monday through Saturday from 9 a.m. to 6 p.m., mask required.
10809 Honeycutt Road, Raleigh| homewoodnursery.com
Logan's Garden Shop
Logan's Garden Shop was started by Robert Logan Sr. in the 60s and moved to its current location, the former Bagwell Seaboard Railroad Station, in 1991 beginning its tenure in the historic location as a go-to for Raleigh natives and folks that live near downtown. They sell annual and perennial plants, trees, shrubs, greenhouse plants, vegetables, and bulbs in addition to a wide variety of garden accessories and household items. The Seaboard Cafe, a quaint lunch spot, is also tucked into Logan's and is a peaceful place to grab a bite to eat among the serenity of plants and fellow-gardeners. Despite its historic charm, this garden center has its eyes set on the future–specifically, the future of the planet that provides the precious resources needed to care for a garden. Three hundred and ninety-six solar panels lay atop a canopy that once covered train travelers from the weather–and sustainably power the entirety of Logan's. Open Monday through Saturday from 9 a.m. to 6 p.m., mask required.
707 Semart Drive, Raleigh| logantrd.com
Mellow Marsh Farm
About an hour outside Raleigh in Siler City, NC, Mellow Marsh Farm offers an extensive catalogue of plants native to the Southeast. While they are a wholesale business, they also sell to individuals with a minimum order size of $100. In addition to their selection of native plants, they sell bare root live stake material during the dormant season and offer select hard-to-find native shrubs. They also sell native seed mixes and have an experienced staff ready to give advice on selecting the right seed mix for your growing location. Open Monday through Friday 7 a.m. to 3 p.m., mark required.
1312 Woody Store Road, Siler City| mellowmarshfarm.com
Norwood Road Garden
Norwood Road Garden has been around since 1991 and offers a variety of annual and perennial plants, shrubs and trees, edibles, in addition to water features, pots and planters, and other hardscaping materials. Norwood uniquely offers home delivery on orders of any size and their blog, focused specifically on protecting your plants from insects and other pests, harsh weather, and harmful weeds, demonstrates the investment the center places in helping their customers care for successful gardens. Open Monday through Saturday 8 a.m. to 5 p.m., mask required.
12825 Norwood Road, Raleigh |norwoodroadgarden.com
Plant Delights
Tony Avent, a Raleigh native, fulfilled his childhood dream to own a mail-order nursery in 1988 when he bought 2.2 acres in Garner and started Plant Delights. The nursery (28 acres now) specializes in rare perennials (some available nowhere else in the US) and plants native to North America. The Juniper Level Botanical Garden serves as an outdoor classroom to study and identify plants and to explore botany and horticulture with classes currently being held virtually through Zoom. Avent, a published author, writer, and lecturer has written for WALTER in the past about all different sorts of flowers. Read more about Tony and Plant Delights here. Plant Delights is open Monday through Friday from 8 a.m. to 5 p.m., mask required.
9241 Sauls Road, Raleigh | plantdelights.com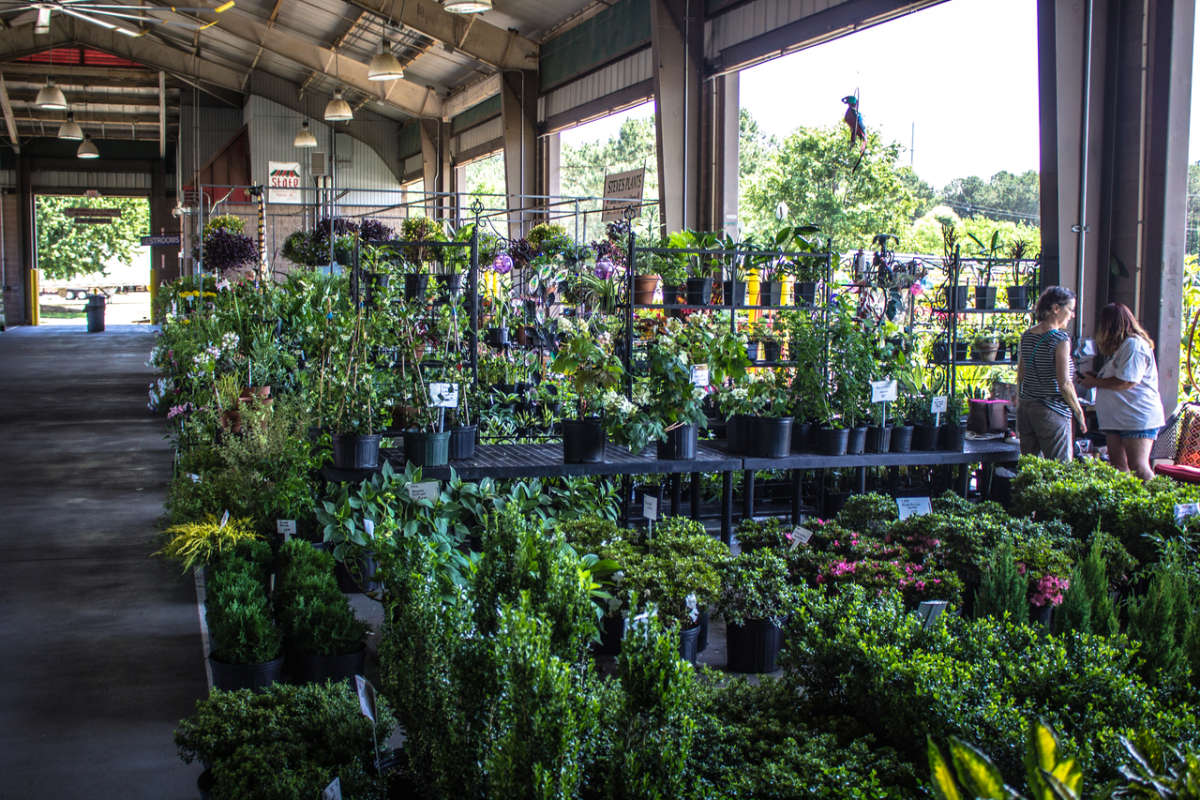 State Farmers Market
The State Farmers Market in Raleigh hosts farmers and vendors from all over the state, selling everything from succulents to herbs to fruit trees. Insiders tell us it's also a great place for reasonably priced heirloom vegetable plants. There is a wide selection of flowers and ferns and other perennials as well as herbs, tomato plants, and other exciting selections for those beginning a spring vegetable garden. If the selection of spring plants is not calling enough, the airy atmosphere and southern hospitality from many of the vendors makes it worth the trip. Open Monday through Saturday from 5 a.m. to 6 p.m. and Sunday from 8 a.m. to 6 p.m.
1201 Agriculture Street, Raleigh | www.ncagr.gov/markets/facilities/markets/raleigh
Taylor's Nursery
Taylor's Nursery has been around for over 70 years and covers more than 1,500 acres at their B&B Tree Farm in Louisburg, NC and over 80 acres at their main office in Raleigh on New Bern Avenue. They have an extensive online catalog from which they sell various landscape plants and trees wholesale, although they sell retail as well and you can shop around in-person. Some of their most sought after plants include the October Magic Ruby Camellia, the Strawberry Candy Daylily, and the Spring Bouquet Viburnum. Open Monday through Friday from 8 a.m. to 5 p.m., mask required.
3705 New Bern Avenue, Raleigh| taylorsnursery.com