These local old-school diners, strip mall stalwarts, and under-the-radar restaurants are worth a visit.
by Addie Ladner and Riley Bensen
Raleigh attracts celebrity chefs and restaurateurs from all over the world — but let's not forget about the spots that have been here for decades! As the pandemic has shuttered some long-time favorites, let's make an effort to support the no-frills old-school joints that we hope will be around for many decades more.
Amedeo's
Since 1963, this family-style Italian restaurant has become an icon among the NC State sports community and the neighborhood alike. 
3905 Western Boulevard | Amedeo's
Bloomsbury Bistro
When John Toler opened Bloomsbury Bistro in Five Points 1995, he was one of the first to offer up-scale dining with local ingredients in the Triangle. Toler — and Bloomsbury Bistro — has become recognized for his innovative menus and the restaurant's sophisticated, yet comfortable dining atmosphere. While it was conceived as a French restaurant, Toler's dishes are often inspired by North Carolina's produce offerings and global influences: say, truffle fries along with North Carolina flounder, Tai curry pork, and burgers. The French restaurant has recently taken on new ownership by Stephen and Anne Stuart Koster, long-time friends of Toler's, however, but its dedication to refined, flavor-packed cuisine with French influences remain the same.
509-101 W. Whitaker Mill Rd. | Bloomsbury Bistro
Casa Carbone
Headed north down Glenwood Avenue, in a strip mall, Casa Carbone has been around since 1984. Set up for half capacity for indoor dining and offering takeout and their own delivery service, their popular chicken parmesan and lasagna offer satisfying takes on Italian American fare. Save room for desserts such as tiramisu, cheesecake, and creme caramelle.
6019-A Glenwood Ave. | Casa Carbone
Char-Grill
Pick up a tiny yellow pencil, mark your order sheet, slip it through the slot, and watch your burger being cooked through the window. With hamburger steaks, cheeseburgers, hotdogs, and BLTs, Char-Grill is a great place to grab take-out when you are on the go. As the weather starts to warm up, consider hanging around to eat in the sun at their classic red picnic tables. Insider tip: for a chocolate vanilla swirl milkshake, jot down "zebra" on your order card next to your milkshake size.
618 Hillsborough St. | Char-Grill
Chuan Cafe
Head to Chuan Cafe off New Bern Avenue for some great Chinese food in a bright and open atmosphere, now open for in-person dining. Try out their popular Szechuan chili wontons, dan dan noodles, sesame chicken, or super-spicy mapo tofu. With delivery options on practically every food ordering service (Grubhub, DoorDash, Postmates, and Ubereats), this spot is both tasty and convenient.
2004 New Bern Ave. | Chuan Cafe
Circus Family Restaurant
Insiders tell us this is a great spot for a classic milkshake and 1-3 buck chicken salad sandwiches and burgers depending on what the days special is. It's located on Wake Forest Road in a parking lot with an atmosphere that makes you feel like you're a kid at a carnival, you guessed it…circus.
1600 Wake Forest Road | Circus Family Restaurant
Cloos' Coney Island
With black-and-white checkered floors, spinning diner stools, and an old-school pinball machine in the back, Cloos' Coney Island has a comforting retro feel. Known for its hotdogs and fries, this Mission Valley restaurant has been coveted by NC State students for decades. Now open for in-person dining!
2233-102 Avent Ferry Rd. | Cloos' Coney Island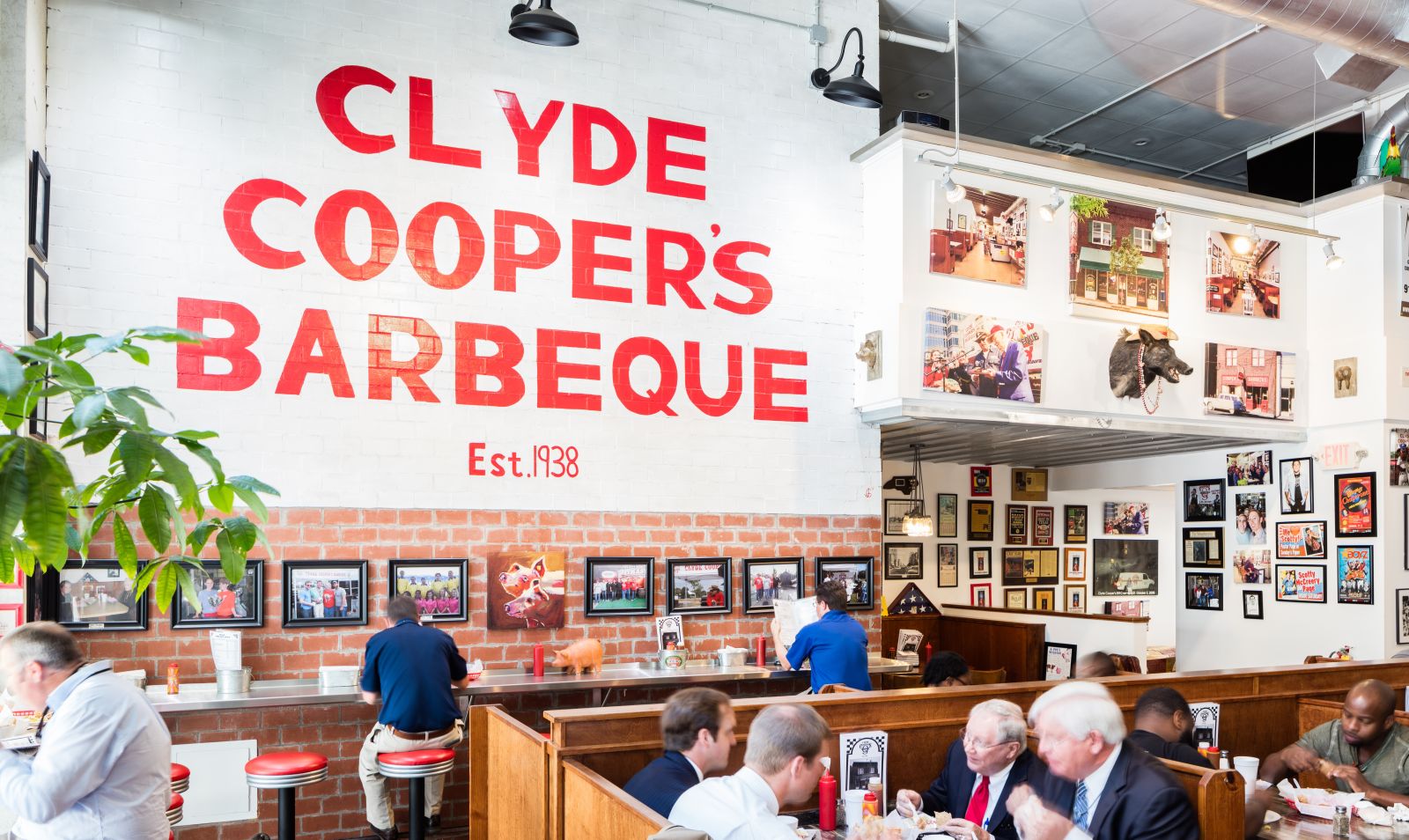 Clyde Cooper's Barbecue
Established in 1938 and still a downtown BBQ establishment today, Clyde's is is one of the longest-standing BBQ joints in the state. Though it's moved locations from its flagship spot, it's classic menu of hushpuppies, fried chicken, collards, fried chicken and obviously BBQ have remained the same and it's what folks have kept coming back for. It re-opens March 30 for dine-in or takeout.
327 S. Wilmington St. | Clyde Cooper's Barbecue
Community Deli
Open for nearly a hundred years, this tiny cheeseburger and sandwich joint on Oberlin Road hasn't changed much. Locals love the daily special, like one dollar hot dogs on Wednesdays. Since the pandemic they've pivoted to offer their best-sellers: Brunswick stew, chicken and pastry soup, and a variety of sandwiches, in large amounts to go. The Community Deli is open for in-person dining, however it is a small space so seating is limited; consider ordering through Grubhub or UberEats.
901 Oberlin Rd. | Community Deli
Frank's Pizza & Restaurant
Frank's Pizza has been around for over 30 years and serves not only high-quality classic New York-style pizza, but also has an extensive menu of all things Italian, including calzones, eggplant parmigiana, and ravioli. Not currently open for in-person dining, this family-style restaurant is great for takeout (curbside pickup, GrubHub, and UberEats) to eat around your own dining table.
2030 New Bern Ave. | Frank's Pizza
Glenwood Grill
If you want a taste of the Carolina coast without heading to the beach — or are just craving classic Southern comfort food — Glenwood Grill is your spot. Tucked in Glenwood Village with expanded covered outdoor seating during the pandemic (by reservation), you'll be raving about their fried green tomatoes, short ribs, and shrimp and grits. Dedicated to serving fresh, local cuisine and to supporting North Carolina food providers, Glenwood Grill has been serving hearty meals with a whole lot of heart since 1997.
2603-151 Glenwood Ave. | Glenwood Grill
Lee's Kitchen
Serving Jamaican and Southern cuisine since 2007, Lee's Kitchen has a unique menu ranging from fried chicken to chicken curry. Tucked into an unassuming strip mall with a laid-back atmosphere, Lee's is great if you are feeling adventurous (try out oxtail) or if you just want your share of some classic Southern food (calling all collard greens and mac and cheese lovers!). Not currently open for in-person dining, Lee's is open for carry-out and delivery through UberEats.
1100 Raleigh Blvd; 1100 North Raleigh Blvd | Lee's Kitchen
Mami's Latin Style Rotisserie Chicken
It's hard to miss this Latin food joint with its bright yellow and red exterior in an otherwise unassuming parking lot with a no-frills atmosphere. Formerly known as Mami Nora's, Mami's Latin Rotisserie Chicken has become a go-to for busy families who want nourishing, flavor-packed meals for a reasonable price. The rotisserie chicken is marinated for 24 hours, and sides like yucca, rice, and plantains are a must. Mami Nora's is open for dine-in, takeout, or delivery.
2401 Wake Forest Rd. | Mami's Latin Rotisserie
Ole Time Barbecue
Heading out of town down Hillsborough Street is Ole Time BBQ, a time capsule that's remained nearly the exact same since it opened more than 25 years ago while the land around it has been sold off and developed. It's tiny, with just a handful of tables on each side of the entrance, and the staff is always friendly. After ordering, you'd likely start off with complimentary hush-puppies, don't miss the classic Carolina style BBQ, and most definitely save room for banana pudding for dessert.
6309 Hillsborough St. | Old Time BBQ
Pam's Farmhouse 
For classic Southern comfort food, head to this mysterious spot, just as West Raleigh locals —and particularly Wolfpack fans — have been doing for more than 20 years. In fact, they're opening their doors this week, serving guests inside for the first time in a year due to the pandemic. Folks love their country breakfast which they serve all day or their meatloaf, BBQ chicken, and flounder for lunch.
5111 Western Blvd. | Pam's Farmhouse
Rebus Market
Tucked under the bridge in Boylan Heights, Rebus Market is a breath of fresh air, a community pillar selling food and products from a vast array of top-notch local businesses such as Little Waves Coffee Roast, Locopops, Ladyfingers Catering, and Sustain Market. When Shonna Greenwell originally opened Rebus Works as an art gallery in 2003, her main focus was to highlight local artists. It then only felt right when Rebus expanded into a farmer's market selling local produce and then progressed into what it is today: a soulful market committed to selling the best of what Raleigh has to offer and supporting local vendors, particularly women's small businesses as much as possible.
301-2 Kinsey St. | Rebus Market
The Rockford
Don't assume because it's on Glenwood Avenue, Rockford is a spot for the post-college nightlife. Located up a flight of inconspicuous stairs, this rustic bistro has been around since 1994 and remains a favorite among Raleigh natives for its laid-back atmosphere, spacious copper-topped bar, and ever-changing North Carolina-inspired menu. Try the fried oysters or chicken and waffles for brunch or the bass, sweet potato biscuit and Brussel sprouts for dinner.
320 1/2 Glenwood Ave. | The Rockford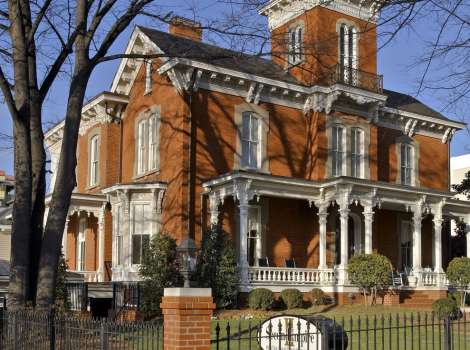 Second Empire Restaurant & Tavern
Opened in 1997 in a Victorian mansion, this fine dining spot combines Southern charm with white-table- cloth treatment.
330 Hillsborough St | Second Empire
Side Street Restaurant
This old-timey cafe, known for the retro Coca-Cola mural painted across the side of the building, was the only restaurant in Oakwood when it opened in 1979. It continues to serve fresh salads, soups, and sandwiches daily. Stop by to browse one of the cutest menus in town, with sandwiches with names like the Holey Hen (a chicken salad sandwich) and the Avocado Crush on You… Sweetie Pie! (an avocado, tomato, and swiss cheese, with choice of bacon, turkey, or ham). Side Street is currently open for in-person dining and delivery through Grubhub.
225 N Bloodworth St. | Side Street Restaurant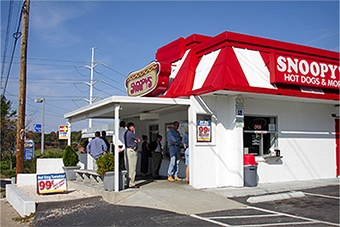 Snoopy's Hot Dogs
The beloved Snoopy's location on Hillsborough Street, originally opened in 1990, closed its windows for the last time on February 28 with nostalgic patrons lining up in the Sunday afternoon sunshine for one last visit to their favorite lunch spot. The bright yellow building was a go-to for a pre-road trip meal or takeout for the office and was a favorite for french fry fanatics and chicken salad connoisseurs alike. But if you're ever craving a classic Snoopy's hot dog, don't despair: there are two other Raleigh locations on Wake Forest Road and the other end of Hillsborough.
1931 Wake Forest Rd. and 3600 Hillsborough St. | Snoopy's
Taste
Taste serves small plates of Asian and American cuisine with each bite made to be a complex blend of herbs and spices. Opened only in 2013, Taste has quickly become a favorite spot for Raleigh natives. Try out fan-favorite beltline sliders topped with sautéed onions and white cheddar, bruschetta with feta, and deviled eggs with roasted jalapeno and Applewood smoked bacon. Stop by Taste on Saturdays and Sundays from 10 a.m. to 2 p.m. and order a few plates from their savory brunch menu, and as the weather warms up, take advantage of their outdoor seating.
1912 Bernard St. | Taste
The Barton on Fairview
Owners Frank and Marget Ballard opened a restaurant next to the Hayes Barton Pharmacy in 1998, beginning its legacy as a hallmark of Five Points and the Hayes Barton neighborhood. A beloved favorite for Raleighites, the Barton, formally known as Hayes Barton Cafe and Dessertery, is a low-key lunch spot by day (currently only offering takeout during lunch) and candle-lit fine-dining by night (offering in-person dining by reservation). Their elaborate cakes and pies, served in slices large enough to share, make it a favorite birthday spot and exciting outing for kids. The walls of the cafe are covered in memorabilia from the 1940s and a circular lunch counter cutting into the middle of the space practically begs for you to strike up a conversation with your neighbor.
2000 Fairview Rd. | The Barton on Fairview
Waraji Japanese Restaurant
Masatoshi Tsujimura was born in Shimonoseki, a major fishing village in western Japan and brings authentic Japanese cuisine to the Triangle with this authentic sushi place. Apparently, it was one of the first sushi bars in Raleigh. Word on the street is that it's reasonably priced and has over 100 varieties of sake. It's down Glenwood Avenue, a trip if you are coming from downtown but well worth it.
5910 Duraleigh Road | Waraji Sushi