In-person concerts and movies — hooray! — plus open garden days, film festivals, and more to put on your radar this month.
by WALTER Staff
Dineout Downtown
Throughout May and June, enjoy an evening meal outside at some of your favorite restaurants in the heart of the city. As an initiative of Downtown Raleigh Alliance, each Saturday a different portion of various districts (City Market, Glenwood South, Fayetteville, etc) will be blocked off to offer more dining space, along with live music and free parking. More room to dine safely and comfortably at downtown favorites like Sono, City Market Sushi, Raleigh Times, and Capital Club 16? We'll tip a glass to that!
Saturdays | 5 p.m – 9 p.m Various locations; see downtownraleigh.org for map and parking information.
Enjoy Yoga & Mimosas at The Dogwood
You may be used to hitting up The Dogwood Bar & Eatery for food, but on Saturdays in May, you'll also find rejuvenating yoga — and bubbly. The Dogwood has paired with Oak City Yoga for this outdoor series of spring yoga classes with a round of mimosas for class participants. All skill levels are welcome. On the chance you do work up an appetite, stick around for Dogwood's specialty flatbreads, like the Sticky Goat piled with figs, arugula, honey, and herbed goat cheese.
Saturdays | 11:00 a.m – 12:00 p.m. $13 (includes one mimosa); 610 Glenwood Ave; oakcityraleighyoga.com
Watch the NC Symphony with the Kids
The NC Symphony isn't just for adults. At the start of the month, kids can experience the imaginative tale of Peter, a fearless boy living with his grandfather in the woods, and the Wolf, whom Peter bravely captures. Sponsored by WakeMed Children's Hospital, don't miss this delightful matinée, conducted by Michelle Di Russo and streamed from Meymandi Concert Hall. The concert will be available for streaming for 20 days following the initial air date. Packages including all three Young People's Concerts this spring are also available.
May 1 | 3:00 p.m Virtual; $21; ncsymphony.org
Shop at a Triangle Pop-Up Market
Head to Transfer Co. Food Hall's spacious patio to shop quality artisan items like handmade soap, candles, clothing, jewelry, plants, and more at Triangle Pop-up's May market. Beyond the shopping, there's music, food, and drink, and safe, outdoor fun for the whole family (dogs are welcome, too). A few vendors to look forward to are Bumble & Hound, Wind Blown Jewelry, and Terracotta Gal. Spearheaded by sisters Abby and Sarah Moody, look for more pop-ups at other locations this summer, including Boxyard RTP and Lafayette Village.
May 1 | 10:00 a.m – 2:00 p.m; Free admission; 500 East Davie Street; trianglepopup.com
Celebrate National Bike Month
Oaks & Spokes is hosting a number of community biking events in May in honor of Raleigh Bike Month. Check out their calendar for details on meet ups around town like at Crank Arm Brewing, Raleigh Brewing and a Bicycle Repair Day with non-profit Community Kickstand at Oak City Cares — along with a Mother's Day Picnic & Ride, their popular Light Up the Night Ride, and Pedal for Pies (where participants can win pizza).
Eat at a Local Hidden Gem
Raleigh attracts celebrity chefs and restaurateurs from all over the world — but let's not forget about the spots that have been here for decades! As the pandemic has shuttered some long-time favorites, let's make an effort to support the no-frills old-school joints that we hope will be around for many decades more. These local old-school diners, strip mall stalwarts, and under-the-radar restaurants are worth a visit.
Listen to The Spark with Tift Merritt
Watch candid conversations between nationally and locally known creatives with The Spark, a project from Grammy-nominated country musician Tift Merritt. In this hour-long show, Merritt, a Raleigh native and University of North Carolina at Chapel Hill alumna, candidly interviews artists of all stripes, from musicians to visual artists. It's a series of 45-minute live-streamed conversations between Merritt and her guests, followed by a 15-minute audience Q&A. The Spark was originally produced by the acclaimed Marfa, Texas, public radio, and has now come to Carolina Performing Arts. This month Merritt will host award-winning artist, puppet designer, and director Robin Frohardt out of Brooklyn.
May 6 | 6:30 p.m; Virtual; registration required; free but $15 donation suggested; carolinaperformingarts.org
Head to Juniper Garden's Open Garden Days
For only eight weekends each year, renowned Juniper Level Botanic Gardens, founded in 1988 by local plant legend Tony Avent, opens its space to the public. Two of those weekends are this month. Set on 28 acres, with thousands of both native and rare plant varieties — everything from wild ginger to Lenten Roses to ferns to herbs — the sale offers an opportunity to add something new and interesting to your landscape, as well as to wander the grounds of the unique nursery. The hours are 8 a.m. to 5 p.m. on the Friday and Saturday dates and 1 p.m. to 5 p.m. on the Sundays.
May 1 – 2 & 7 – 9 | See website for times Free admission; 9241 Sauls Rd; plantdelights.com
What a Movie Under the Stars at Koka Booth
One of our area's most-loved outdoor venues, Koka Booth Amphitheatre, has reopened just in time for outdoor film and concert season. Grab your blanket, chair, and, of course, picnic fare (you can bring your own or buy food there there) to sprawl out among pine trees for their Movie by Moonlight series. May's film lineup includes Trolls World Tour, Aquaman, Little, and Star Wars: The Rise of Skywalker. "Although we're taking a 'dimmer switch' approach to our programming — starting small and building up — the spotlight on in-person movies and music has never been brighter," says Cary cultural arts manager William Lewis. "The more than 400-day hiatus gave us plenty of time to reflect on just how special and rejuvenating things like this are." This year the venue has adapted to a pod seating-style ticketing system, with tickets sold per group.
Fridays | 8:15 p.m.; Starting at $20 per table or four-person pod; 8003 Regency Parkway, Cary; boothamphitheatre.com
Cook & Eat Something Springy
Spring in Raleigh is wonderful for its vibrant pink and white trees, sunnier days — and of course, its bounty of early season vegetables. This time of year, produce like asparagus, lettuces, and peas are in their prime and readily available at the farmers market. From elegant salads to a unique hummus to open-face sandwiches, give these vegetable-based dishes a try.
Book a Room at Heights House
The highly antiquated Heights House (formerly known as Montfort Hall) in Boylan Heights, is now open as Raleigh's newest boutique hotel. Take a tour and learn about the structures history here.
Shop Vintage at the NC State Fair Grounds
Distressed furniture, galvanized buckets, bits of lace: have your pick of all things vintage at the State Fairgrounds for Vintage Market Days. Shop antiques, outdoor furniture, garden decor, edible goods, one-of-a-kind art, and more to give your home a fresh point of view. If the pandemic hasn't made you a homebody, this event might.
May 7- 9 | 10 a.m. – 5 p.m. Friday & Saturday; – 4 p.m. Sunday; Starting at $5 for a Sunday pass, with all-weekend and VIP price options; Jim Graham Building, 1025 Blue Ridge Road; vintagemarketdays.com
Make a Bloody Mary
Writer Billy Warden took a deep dive into the complex classic cocktail and its Raleigh incarnations for our May issue. Try out Sig Hutchinson's signature recipe, just in time for brunch season.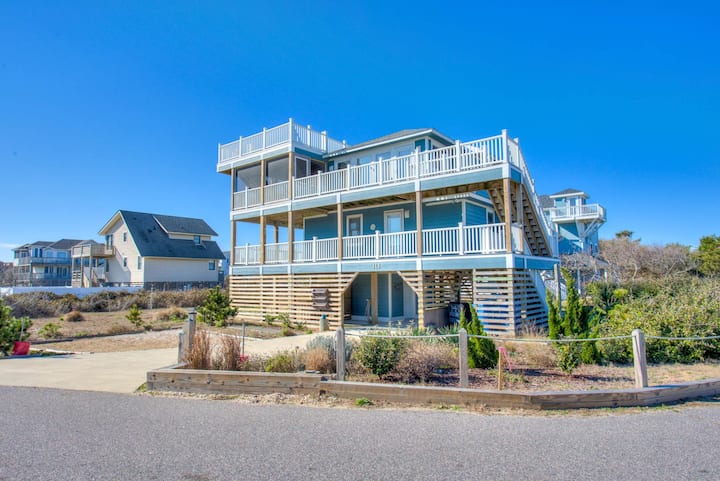 Head to the Coast
From Bald Head Island to Ocracoke to Beaufort to Wilmington — North Carolina's coast stretches far, with vacation rentals as varied as its many beaches. From the surfer town of Wrightsville to charming, historic Beaufort, check out these Airbnbs all along the coast for their quirky and stylish interiors, salty breezes, and ocean sunsets.
See a Concert at the Speedway
Gather some buds and head to Rougemont for some of the first (of hopefully many more!) in-person concerts just in time for the start of summer. At the Orange County Speedway, indie-rock band Mt. Joy will bring an exciting new concert experience to the Triangle with a drive-in style showing (picnic blankets and chairs welcome too) on the 13th, and Nashville-based Moon Taxi will bring the tunes on the 21st. Doors open at 6 p.m.; check the website for ticketing logistics.
May 13 & 21 | 7 p.m.; Starting at $22 for one car pass for 4; 9740 NC Highway 57, Rougemont; maxxmusic.com
Read Poetry by North Carolina Writers
The old adage "poetry is all around us" reigns particularly true in North Carolina. From the acclaimed poet laureates of the state to young, rising scribes, these North Carolina poets offer a unique lens to view the world around us through their gorgeous, soulful words — and remind us of ways to find beauty in the everyday. From long-acclaimed literary figures to rising stars in the field, here are 10 North Carolina poets who offer new perspectives on our world and everyday life.
Watch a Film at Longleaf Film Festival
The Longleaf Film Festival, held virtually again this year, is an annual juried independent film festival hosted by the North Carolina Museum of History that shares unique stories of North Carolina. "The historic art and culture of filmmaking continues to provide much-needed connections in challenging times," says festival co-director Sally Bloom. There's something for all audiences at this free event, which includes everything from animated films to music videos to documentaries. A few highlights: Theirs is the Kingdom, a documentary that examines the intersection of poverty and portraiture as it follows the creation of a fresco mural in Asheville, and Jon Lance Bacon's Oh Crappy Day, which follows an aspiring young filmmaker's quest to find love through online dating as he struggles with OCD.
May 14 & 15 | See website for showtimes; Virtual; free; longleaffilmfestival.com
Host an Elegant Brunch
If there's anything we've learned this past year, it's that there's much good found close to home. Raleigh and NC generally boast all manner of food purveyors who create delicious products worth adding to menus. Cookies, salsa, pickles, jellies, smoked fish, dairy products — there are many ways to eat local! For this menu, we shopped farmers markets, specialty stores, and local aisles of the bigger grocers to find Carolina products that can offer creative ways to brighten a spring brunch. Whether you're celebrating Mother's Day, an anniversary, or just a spring day, consider updating your usual recipes to incorporate local ingredients. Use these recipes as your starting point.
See Raleigh Little Theatre's Divas! Under the Stars
Performed in Raleigh Little Theatre's lovely Stephenson Amphitheatre, watch a live (and in-person!) performance of Divas! This annual show is filled with glamour and sparkle as 11 artists show off their talents. Pack your lawn chairs or picnic blankets to see who will take home the 2021 crown — and to raise money for the theatre's future programming.
May 15 | 8:00 p.m.; $25; 301 Pogue St; raleighlittletheatre.org
Watch Carolina Ballet's Cinderella
Don't miss the last program of Carolina Ballet's 2021 spring season. They'll present Robert Weiss' production of a family classic, Cinderella, featuring an original piano score by composer and Triangle-based musician Karl Moraski. "We are very proud to continue presenting this performance 16 years after its creation," says Courtney Hilliard with Carolina Ballet. "It excites us to bring new dancers into these original works, as well as new audience members. Cinderella is as much a piece of Carolina Ballet's history as it is Raleigh's history, and we can't wait for everyone to see it!" The program will be live-streamed for two evenings: Wednesday, May 19, and Thursday, May 20, each at 7:30 p.m. The performance will remain accessible to patrons until midnight on Sunday, May 23.
May 19, 20 & 23 | 7:30 p.m.; Virtual; call box office at 919-719-0900 for streaming information; carolinaballet.com
Have a Picnic
One thing we love about Raleigh: its balance between bustling city streets and quieter spaces. From the expansive fields at Dorothea Dix Park to the NCMA's art-woven landscape and Union Station's urban escape, we have an abundance of spots to grab a picnic. Grab a blanket and consider this list of great picnic spots in Raleigh for your next packed lunch or takeaway meal this spring and summer.
Stroll & Roll Downtown with Artspace
Spend a day looking at public art installations, participating in creative scavenger hunts, and stopping in artistic shops through Artspace's fundraiser, Springtime Stroll & Roll. The event offers two routes: a 1-mile stroller- and wheelchair-accessible downtown trek that passes by Cathy Foreman's Black Roses mural, 311 Gallery on Martin Street, and CAM; and a 10-mile bike route past spots like Rebus Works, Transfer Co.'s Eudora Welty's quote mural, and The Gregg Museum. The event takes place over three days, and Artspace encourages participants to raise money for their Stroll & Roll to support local arts. "Ask your colleagues, friends, and family to sponsor you through donations to your personal Artspace fundraising page," says Mary Kay Kennedy with Artspace, who notes that both routes start and end at Artspace, where they'll have free make-and-take art activities, interactive art projects, and opportunities to visit with studio artists.
May 21-23 | See website for times; Free but donations encouraged; 201 E. Davie St.; artspacenc.org/events/stroll-roll.
Enjoy an In-Person (!) Concert
We aren't back to normal just yet, but how can we not get excited with the news of some of our favorite music venues will be hosting live shows starting in April? This spring, you can expect smaller, distanced crowds and some creative social distancing (see: viewing a show from your car) — but you know what? We'll take it, to hear our favorite lyrics sung, live. Here are 10 Venues in and around Raleigh that'll be presenting live music starting this month and running into summer.